If you have pets, the holidays come with their own unique set of challenges. You can't stay out late because the dog needs to be fed. You can't just pack up and go on vacation because someone needs to watch the cat. Luckily, it's not hard to keep both you and your pets happy throughout the holiday season! If you're expecting any pet-related holiday trouble, take a look at these tips on How to Have a Happy Holiday with Your Pets!
How to Have a Happy Holiday with Your Pets
1. Busy Toys. If you know you're going to be busy this holiday season, then keep your pets busy, too! Consider edible toys, like rawhide, or puzzle toys where you hide treats. Regardless of how smart your pet is, there's likely to be a puzzle toy or two that they'll have a hard time solving!
2. Doggy Day Care and Boarding. If you're going to be gone for most of the day due to holiday activities, consider putting your dog in doggy daycare. They'll have more fun playing with other dogs than lying around at home waiting for you. You may also want to board your pet instead of traveling with them, for less stress for both of you.
3. Exercise. If you are planning to travel with your pet, make sure to exercise them before starting the trip. It'll help keep them calm. Also, exercise them before guests arrive for a party. They can't get into mischief if they're sleeping, ensuring a happy holiday with your pets!
4. Keep Visitors Separate. Even if your pet is friendly, it's usually a good idea to keep them separated from visitors. A friendly dog can easily become an aggressive one if overwhelmed, and a normally cuddly kitty may decide to start scratching if they feel their space is being invaded.
5. Keep Visiting Pets Separate. If your relatives travel with their own pets, be wary of just throwing them in the backyard with yours. Pet relationships are complex. If your pets aren't already friends with the visiting pets, there's no need to force friendships. Just give them their own space and you'll have a happy holiday with your pets!
6. Don't Feed Scraps. There are a lot of human foods that are poisonous to cats and dogs, and many of those foods are served during the holidays. For example, turkey skin and bones, grapes, macadamia nuts, onions, chocolate and baked goods all pose a threat to animals. Stay on the safe side and only feed pets' pet food.
7. Keep Pets Hydrated. While dehydration is mostly a summer danger, it can also happen during the winter if no one remembers to check that water bowls are filled. Be especially careful with this if your pet is elderly, or has a medical condition. You don't want an emergency vet visit to ruin your happy holiday with your pets!
8. Keep Pets Warm. Just because your house is full of people doesn't mean your pet has to sit outside in near-freezing temperatures. Keep them inside, and keep them warm.
9. Watch Decorations. Decorations like Christmas tree ornaments and candles can become dangerous if pets get ahold of them. The same can be said of decorations' electrical cords.
10. Keep Pets Away from Loud Noises. Dogs and cats have excellent hearing. One of the cons of hearing so well and living with humans is that we sometimes make loud noises. Noises like fireworks can scare and stress pets. Many a pet has been so scared that they've run away. Keep your pets inside and away from loud sounds in order to have a happy holiday with your pets!
11. Pack their food and prepare for any issues! Some dogs can get upset tummies from the stress of car or plane trips. Make sure you talk to your vet if your pup is experiencing any GI issues as they can recommend a short-term diet to help manage his/her upset stomach. The best advice for any pet parent on the go is be prepared- and don't be afraid to ask questions!
Tips For Dog Owners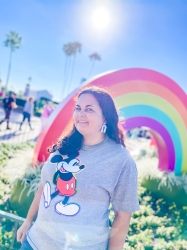 Latest posts by Krystal | Sunny Sweet Days
(see all)