How to Keep Your Dog Happy This Festive Season
During this time of the year, it isn't just important to give back to our fellow human friends and family, but it's also a time to start realizing the importance of our pets too and finding ways to keep them both happy and healthy during this festive season. As the cold weather approaches, you'll probably realize that your dog is not as excitable as he/she is during the summer months but how can you treat your dog during this festive season and find the best things dogs can eat?
Give Them Fun Things To Eat: Your dog's health is so important during winter, ensuring they have healthy foods to chew on, will help both their physical and dental health. So get your rawhide bones today! Make sure your dog has plenty to keep them occupied gnawing on when the cold bites outdoors! As some dogs tend to eat more during the cold winter months for energy, it's important they're eating the right things! Watch their calorie intake, they may be taking in more fats which is not always the best thing for them! 
Wrap Them Up Too: It may sound silly but dogs feel the cold too and wrapping them up in cute scarves and coats will stop them from feeling sluggish or unwell during cold walks. There are plenty of cute festive coats to wrap your dog up in, which also makes your dog incredibly Instagrammable, because everyone loves cute dog photos on Instagram to brighten up their day! During winter, the weather conditions, such as fog and rain can diminish visibility. Have your dog wear a high visibility coat, this way you will not lose them when they run off in the park or on their walk, it can also be good for pet owners to ensure that other pedestrians and drivers alike are able to see your dog. 
Keep Them Active Inside Too: If you are not taking your dog outdoors as often as usual, keeping them active in doors is just as important. If you have the space, play ball inside, get them to play a game of 'find the treat', or teach your dog to help with chores such as collecting the post. Your home is the cosiest place to spend those cold winter months and ensuring your pet is getting the most out of being indoors is going to be one of the best things for them. 
Prepare Well For Walks: Make sure that you prepare your dog on winter walks by doing the following: 
Trim the hair around your dog's feet 

Wash their paws after a walk in case salt and grit gets in between their paws. 

Stay away from frozen ponds or lakes  which can be incredibly dangerous for dogs, they can slip on the ice or slip through thin ice. Keep your dog on a lead as often as possible especially near water. 

If your dog becomes sluggish during the winter months, don't overfeed them.

If your dog has arthritis, keep in close contact with your vet to ensure your pet is healthy all season long.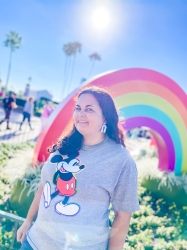 Latest posts by Krystal | Sunny Sweet Days
(see all)