Celebrate Pride 🏳️‍🌈 | Pride Party Ideas
Party City sponsored this post, but all opinions and personal stories are my own! Thanks for supporting Sunny Sweet Days!
It's been a long time since I sat at the keyboard and actually TYPED a personal story attached to my blog. Over the years, it has evolved into easy recipes and travel tips with fewer family photos and personality. It was by design. I didn't know what to say. I hated every photo of myself. I felt myself pulling away from my website. I loved blogging, writing, and creating content. It just felt like something wasn't right.
Last year was hard. I had to answer a few hard truths about myself and my future, and I knew what the next step was. I moved to the Orlando area and have been working on finding myself. One thing that I knew for sure, I discovered I was queer.
Why I Identify as Queer
I identify as queer because I don't feel like I fit into any one specific category. My sexuality isn't black and white, it's a spectrum of gray. I'm attracted to people of all genders, and I don't believe that love should be limited by labels. For me, queer is a term of empowerment and pride. It's a way to claim my identity and to show the world that societal norms will not limit me.
I'm sure I will address this later in future posts, but I spent a good portion of my life wondering if I was. Did I need to come out? What would that look like? Who would I need to tell, if anyone? I think I was really lucky since I had the best support during this time.
Coming out as queer can be a daunting experience, but it's also an incredibly empowering one. If you're thinking about coming out, here are some tips to make the process a little easier:
1. Choose the right time and place. You should only come out when you're ready and in a safe environment. Avoid coming out in public places or to people who you don't know well.
2. Be prepared for a range of reactions. Some people will accept and support, while others may not be so receptive. It's important to remember that you cannot control how others react, but you can control how you respond.
3. Have a support system in place. It's important to have a few trusted people who you can rely on for support. These could be friends, family members, or even a therapist. There are online resources that can help as well, but I am more than happy to be your support system too!
4. Take your time. There is no rush to come out. You can take as much time as you need to make the decision that's right for you. You don't have to come out at all either. This is a personal choice, but I wanted to make sure I shared a few tips from my own experiences.
Now, let's share a few photos from an at home Pride celebration inspired by Party City.
It's time to get rainbow-colored and celebrate! Whether you're commemorating a special event or just want to show your support for the LGBTQ+ community, throwing a pride party is a great way to show your colors. First up, what does LGBTQ+ mean? The acronym LGBTQ+ stands for Lesbian, Gay, Bisexual, Transgender, and Queer. The plus sign includes people who identify as intersex, asexual, pansexual, or any other non-heterosexual orientation. We often use the term queer as an umbrella term to encompass all members of the LGBTQ+ community.
What is Pride Month?
Pride Month is an annual celebration of the LGBTQ+ community. It typically takes place in June to commemorate the Stonewall Riots, a series of protests that occurred after a police raid on the Stonewall Inn, a queer-friendly bar in New York City. Pride Month is now celebrated all over the world, with pride parades, festivals, and other events taking place in cities large and small. The month is an opportunity to celebrate queer culture and history, and to stand up against discrimination and bigotry.
Why is it important to celebrate Pride?
Pride is important because it helps the visibility of the LGBTQ+ community and celebrates queer culture and history. For many queer people, Pride is a time to feel proud of who they are and to celebrate their identity. It's also an opportunity to stand up against discrimination and bigotry. By attending pride events and supporting queer-owned businesses, you can help create a more inclusive world for everyone.
1. Choose a theme and decorate accordingly. Your theme could be based on a specific pride flag, colors, or even something more general, like "love is love." The Love is Love banner came from Party City, and we also grabbed plates, napkins, and other decor items including flags, treat buckets (that we turned into vases), and party favor bags we filled with bubbles.
You can also use Party City to order balloons to make your party picture perfect. Order online or in-person for easy curbside pick up or even delivery. They have a few different balloons for Pride!
2. Make sure your music playlist is upbeat and danceable! There's nothing worse than a party that has no energy.
3. Have plenty of snacks and drinks available, including non-alcoholic options for those who don't drink. Our party spread included cookie cake with rainbow frosting and cupcakes that we DIYed with rainbow sprinkles, and I ordered gelatin shots from my friend Rachel at My Mini Adventurer. You can make your own rainbow gelatin shots by following her recipe.
We topped our shots with whipped cream and sprinkles.
4. Have fun! This is your party, so enjoy it!
How to Support the LGBTQ+ Community All Year
We are donating proceeds from this sponsored campaign to The Trevor Project to support LGBTQ+ youth. If you want to give back, you also sign up to be a volunteer within their organization!
1. Be an ally. One of the best ways to support the LGBTQ+ community is to be an ally. This means being a friend, advocate, and active supporter of queer people. Show your solidarity by attending pride events, donating to LGBTQ+ organizations, and speaking out against discrimination and bigotry.
2. Educate yourself and others. Learning about the experiences and histories of queer people is a crucial step in supporting the LGBTQ+ community. Educate yourself on topics like queer theory, transgender rights, and the AIDS crisis. Then, use your knowledge to educate others and help create a more inclusive world.
3. Stand up against discrimination. Unfortunately, the LGBTQ+ community still faces a lot of discrimination. Be an active bystander if you see someone being harassed or mistreated because of their queer identity. Show your support by speaking out against hate speech, attending protests, and writing to your elected officials about important issues.
4. Show your pride. One of the best ways to support the LGBTQ+ community is to show your pride! This can be done by flying a pride flag, attending pride events, and supporting queer-owned businesses. Being out and proud will help create a more inclusive world for everyone. I found this makeup stick at Party City to wear during Pride events this month, and I love it!
I hope you have a happy Pride! I'm doing my best to support businesses that are actively giving back to support LGBTQ+ causes, and I hope you do too. While I'm still new at this, and I may not always say the right thing, I am definitely learning to be more open and share more of myself online. I know I wanted to read other stories from women who were coming out later in life, and I didn't find too many (though there are a lot of stories on TikTok and Instagram if you're looking). I hope you stick around, and thanks for following along!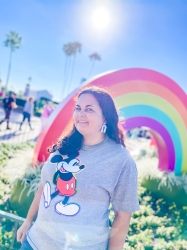 Latest posts by Krystal | Sunny Sweet Days
(see all)