10 Reasons to Visit Cancun
We generally think of Cancun as a destination for partying and nightlife without limits. However, have you ever wondered "what to do in Cancun?" What has made Cancun one of the most visited vacation destinations in the world is much more than its nightlife. In this dream destination you'll find experiences you'll never forget! That's why we decided to list the 10 most important reasons why you should visit it:
Warm and Friendly People: Beyond the warmth for which Mexicans are known, the constant influx of international tourism makes the locals friendly and willing to help visitors.
Weather: Whether you travel in summer or winter, you can enjoy endless beach days and outdoor activities, as Cancun has the perfect climate almost all year round. Beautiful beaches all year round.
The Food: Nowhere else can you find delicacies from the different regions of Mexico hand in hand with international gourmet cuisine and a wide range of sandwiches to delight your palate.
Culture: Located on the Yucatan Peninsula, Cancun shares the Mayan legacy, and nearby you can find impressive archaeological sites such as Chichen Itza, Tulum and Coba.
Flora and Fauna: Whether you explore the exotic vegetation or immerse yourself in its crystalline waters, you'll find colorful and fascinating ecosystems that make Cancun an earthly paradise. But remember to be responsible during your journey, avoiding altering the ecosystems you pass through.
Nightlife: The nights in Cancun are comparable to those in Las Vegas, with a wide variety of options to choose from. Enjoy nights to the rhythm of the best DJ's and hits of the moment, bars with bands and rock music, lounge bars for those looking for a more relaxed atmosphere.
Beach: Some of the most beautiful beaches in the world are found here; sceneries of fine white sand bathed by the turquoise waters of the Caribbean… In short, the best place to sunbathe!
Romance: This is the ideal destination to celebrate your wedding, spend an unforgettable honeymoon and romantic anniversaries with a spectacular setting, a moment that will simply be perfect.
Activities: Activities for all ages and all tastes… In Cancun boredom has no place! Whether you want to relax in a spa or practice water sports full of adrenaline, you will always find an activity to your taste and measure.
Transportation: In Cancun, there are many ways to get around the Riviera Maya and get to know more and more of the beauty of these lands, you can use Cancun airport transportation services or one of the many services. Of course, it depends on your travel preferences.
Another great option is to rent a car in Cancun. When you rent a car you can easily go anywhere, go and visit your favorite places in Cancun and the Riviera Maya. So it's an option to consider.
Cancun is different from the rest of the tourist destinations in the world for the pleasant place and for its large number of places per visitor and their proximity to each other. It is ideal to take a tour with your family or friends.
The Best Travel Destinations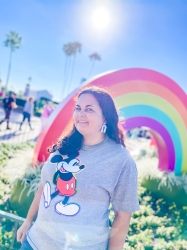 Latest posts by Krystal | Sunny Sweet Days
(see all)