Istanbul is one of the most delicious cities in the world. You can spend an age traveling from eatery to eatery via a Fat Taxi. You might even call it the mecca of food. Even with a few short hours in Istanbul, you can eat a huge range of foods. 
"Istanbul is inspiring because it has its own code of architecture, literature, poetry, music." – Christian Louboutin 
But when it comes to food, what should you be trying, and where can you get it? 
Safety
Many people try to avoid street food or smaller kitchens because they are worried about hygiene. But you will find that almost all of the food places are clean and welcoming. People in Istanbul are a friendly bunch of people and take pride in their offerings. So you shouldn't worry, and eat as you please.
Where?
Well, as you can imagine, being a culture mash of Asia and Europe, the streets are busy and bustling. So some of the best food will be street food. There are so many stalls in competition, but if you look for the stalls with the longest lines of native people, you will hit the jackpot. Most of the main tourist sites have plenty of food stalls, but some are just for tourists – they aren't less authentic, but you probably won't find locals queuing up there.
Expectations
When you are dealing with street food stalls, you should expect them to be very informal and reasonably busy too. Most menus will only have around 10-15 offerings. Like most cafes you go to, you take a seat and will have a menu taken over. The most joyous thing is that most food that you can order will be eaten by hand. Most food will have a wet wipe delivered with it as well as utensils. If you are partial to a glass of wine in the afternoon, then you won't get that in almost all of the places. You can grab a coke or a traditional ayran, though. 
Like most places, you should leave a tip for the service.
Turkish Breakfast
Start your day with a delicious breakfast. If you love to have a range of options when you eat then, this will delight you. You will likely have this in your hotel before you head out to explore for the day. Most of the time, it will be served with tea or coffee. And you will have a delicious range of white bread, cheese, jams, honey, and clotted cream. There will be more savory items, too – like olives, tomatoes, and cucumbers.
Simit
The Turkish equivalent of a bagel. It is usually topped with poppy seeds, flaxseed, sunflower seed, or sesame seeds. It tends to be eaten totally plain and grabbed while on the go or with a nice cup of tea with your breakfast. 
There are plenty of bakeries that serve this, as well as vendors that are dedicated to servicing simit. The Lira conversion rate is excellent for tourists. You'll pay 1.5-2TL for the simit, which is around 25cents to 75cents.
Pide
Can anyone say hello, tasty almost-pizza? This fantastic flatbread is folded over at the edges, and that shaping makes it look like a boat. Pide is usually filled with Turkish peynir cheese, which is made from goat milk. The crust will bubble and turn brown as the cheese melts. 
But it doesn't stop there. The cheese is then topped with either spinach or spiced lamb. They are pretty filling, so don't over-order based on the size of them. Here is a great video with the meat version:
Icli Kofte
These cute little things are little pops of deliciousness. Icli kofte translates to 'stuffed meatballs.' The shell is made from bulgur, and the middle is brimming with minced meat, spices, onions, and in some recipes, you will find nuts too. Typically they will be either lamb or beef. And, much like the pide are much heavier than they look.
Midye Dolma
This is one for the seafood lovers. Midye Dolma is stuffed muscles, and the smell is incredibly enticing. The mussels are stuffed with pine nuts, currants, and spice rice. You'll get a lemon wedge on the side to lift the flavor and add some freshness too. And while in many places, seafood typically comes at a premium, you can get a plate of mussels for around 10TL, which is less than 2 dollars.
Dondurma
You have probably seen the videos of the very talented Turkish ice cream vendors, and that is part of the charm of ordering this deliciously creamy ice cream. The ice cream has a sticky texture, which means you will be at the mercy of the vendor until they decide they've had enough of flexing their skills. 
In order to not pay out extra here, you should insist on one flavor and one scoop only. It is easy to end up paying triple and more out on a mix. Around the tourist-heavy areas, you will see an increase in price too. 
"If one had but a single glance to give the world, one should gaze on Istanbul." – Alphonse de Lamartine
Meze
This is known the world over because it is such a delicious way to eat. Meze is a range of appetizers that get served before most meals. There is such a huge range of different types. You will most often see hummus, ezme, and pickles. The ezme is a dip made from chilis and tomatoes. Another hugely popular dish is patlican salatasi, which is a dip made from grilled eggplants. In many places, you will get served pickles and ezme when you sit down – typically, they are free of charge. Most mezes are pocket-friendly too.
Cay
No matter where you eat, and what time of day it is, you can find a hot cup of cay served next to your meal. What makes this tea so interesting – apart from the flavor, is the gorgeous shape of the cup. The cups don't come with handles, so you hold them quite high up. While there is a basic black tea that tastes fantastic, try the pomegranate. It is sweet, light, and incredible.
Kumpir
If you are in love with baked potatoes, this is going to be the best you've ever had. The baked potato will be sliced in half, and the fluffy potato will be mixed in with plenty of butter and cheese.
Fruit Juice
There are many fruit juice stands, and you will see piles of pomegranates and oranges to show you an example of how fresh their goods are. There are places that have a range of fruits for you to try, but oranges and pomegranates are the most popular by far. 
Then it is time for the magic. The potato will now be topped with things like olives, cheese, corn, pickles, and meat too. There probably isn't a topping that can't go on here and make a delicious snack.
Manti
If you like gyoza, soup dumplings, and perogies, then you will love this dish. Manti is dumplings that are stuffed with well-seasoned lamb and beef. A healthy slathering of slightly sour yogurt, and garlic. They are juicy and packed with flavor. 
The food in Istanbul is delicious, and everything is flavored to perfection with spices, herbs, and the style of cooking. The best thing you can do is to try everything that you come across. 
And of course, try Turkish delight in as many places and varieties as you can!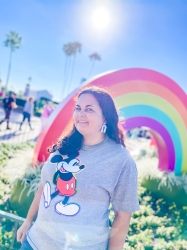 Latest posts by Krystal | Sunny Sweet Days
(see all)