9 Reasons Why You Should Visit Egypt (At Least Once)
It's a big old world out there, with plenty of fascinating destinations waiting to be visited, explored, and enjoyed. And while it's true that every trip holds the capacity to be special, it's also true that there are some corners of the world that are a little more special than others. This is for sure the case when it comes to Egypt, a country that has bags full of history, culture, and all-around good times. It's far to say that any country that has been worthy of visiting for thousands of years must be doing something correctly.
Below, we take a look at a few reasons why you might just want to ensure that you bump Egypt up your list of bucket list destinations.
It's Affordable: We'll get to all the great things about visiting Egypt a little later on, but first, let's just mention one of the best things about it: it's affordable, especially considering how much it has to offer. Whether you're a backpacker or you like to stay in those top of the line hotels, you'll find that Egypt is a country that can more than meet your requirements. If you're budget conscious, then fear not, because you'll find that you can have an awesome Egyptian experience without breaking the bank.
It's Full of History: Of course, that Egypt is full of fascinating history should not come as any great surprise. Indeed, it's for this reason that many people decide to visit. Still, it's not as if you need to be a history buff to find the offerings of Egypt impressive. There's culture that goes back some 3,500 years, after all! Did you know that people living today still can't quite figure out how they built the Pyramids? Go take a trip, and you'll be in awe of the capabilities of people in the olden days! But there's a lot more to Egypt's history than the Pyramids; there, it's virtually around every corner, and it's not all tucked away in a boring museum. It's in the outdoors so that you can walk through history.
Agreeable Weather: Sure, there's something to be said for visiting a cold destination and going skiing or something, but if we're honest, most of us would choose a warm destination for our trips. And on this front, Egypt more than provides! The climate in the country is pretty pleasant all year round. Indeed, the only problem you might have is during the summer months, when things can get a little too warm. But even then, there are smart ways to stay comfortable, including exploring the sights outside of the hottest parts of the day. In the winter, you'll find that the locals are all wrapped up, but they're operating at different standards: if you're a North American or European, you'll find the temperatures more than agreeable.
The Food Is Great: One of the best things about taking a trip is savoring all there is to love about the good life. And what is at the very top of the list when it comes to "the good life"? Food. In Egypt, you'll find plenty of outstanding dishes waiting to be enjoyed. As an old, old culture, the Egyptians have become pretty great at knowing what ingredients work together. When you're feeling peckish, there'll be any number of delicious foods that you can try. Expect to eat a lot of vegetables, meats, and spices while you're there.
You Don't Need As Much Time As You Think: One of the things that put people off visiting Egypt is that they think that it's too big, or they won't know how to easily get around, or that they won't have enough time to see everything. But here's the thing: that's wrong. While you could feasibly spend weeks and weeks exploring the country, it's also possible to see all of the highlights and more in less amount of time, too. There are Egypt Tours that'll ensure that you get to see all of the sights that you want to see. You'll leave knowing that you've experienced the best that the country has to offer — though that doesn't mean that you can't come back in the future if you want to!
Natural Wonders: Egypt is not just full of historical, cultural sights, either — it's also got a fair few natural wonders, too. Perhaps the most famous natural attraction in Egypt is the river Nile. It's huge, of course, and offers many different types of experiences. The best way to get your fill of the Nile is not to watch it from afar, but to find a boat and get on it yourself. You'll feel the weight of history flowing through you as you drift down this iconic stretch of water.
It's a Great Diving Spot: If you're one of those people that loves to get active and do something adventurous while you're away, then there's good news: Egypt more than provides. For example, did you know that this country is considered to be one of the best diving spots in the world? Whether you're a beginner or you're looking for a challenge, you'll find that there's a site for you. There are many reputable diving schools located along the coast, so you'll be in safe hands.
Beautiful Beaches: While you'll want to get busy and do a lot of exploring when you're in Egypt, it's not as if everything is go, go, go. Not at all, in fact, not when there are so many beautiful beaches around. If the idea of spending many hours soaking up the rays, lying on the sand, and going for a refreshing dip, then you'll find that there's much to love on the Egyptian coast!
It's Different: Finally, the number one reason why you should visit Egypt is that it's different from everywhere else on earth. There's just nowhere like Egypt! Take a trip, and you'll soon see what we're talking about it. Indeed, this might just become one of your most favorite destinations you've visited. 
The Best Travel Destinations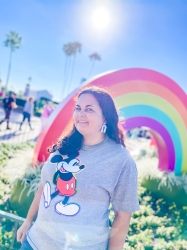 Latest posts by Krystal | Sunny Sweet Days
(see all)