Should you Book a Trip for 2021
Many of us were forced to sacrifice our 2020s vacations amid lockdown and international border closures. If you were lucky, you might have managed to get away for a little while in your own country once some of the stricter controls were lifted, but for many of us, it has been a long summer at home. You might be keen to book a break for summer 2021, eager to get away, to spend more time with your loved ones, and to take a proper break, after all the stress of this year.
But, is it wise to book? Failing to book can mean that you have to pay more if you do getaway, and with so many people rebooking their missed trips, 2021 destinations are already getting a little crowded. But we don't know what is coming. We don't know how bad COVID-19 might get in the coming months, and we don't know what restrictions we might be facing next summer. Borders might be closed once more, hotels might be offering restricted services, if they are open, and you might not be allowed to visit any attractions if you can go at all.
Well, really, it is up to you. At the moment, there's nothing to stop you from booking, as long as you accept that any booking comes with a risk. Here's a look at some of the pros and cons of booking a break for 2021, as well as some tips to help you if you do decide that you are ready to travel.
The Pros and Cons
There are pros and cons to consider with any booking, but perhaps now more than ever. Let's take a look at some of them.
Pro: A Boost for the Travel Industry
The travel industry is struggling. Many smaller firms are finding it hard to carry on, having lost a year's worth of bookings. Smaller tourist destinations, family-run hotels, and other attractions are having a hard time too. Your booking can give them a boost when they need it the most.
Con: You Can't Guarantee Anything
The harsh truth is that at the moment, even if you booked a trip for tomorrow, there'd be no guarantee that you'd be able to go. We're living through a very uncertain time, and this looks unlikely to change anytime soon.
Pro: It's Nice to Have Something to Look Forward To
It's been a tough year. Most of us have had it hard with worries about our health, our jobs, and the wider world around us. More than ever, we need something to look forward to. Having a vacation booked can make everything seem better.
Con: You Might Struggle to Get Insurance
Insurers generally cover pandemics, but not known events. This means that COVID-19 was covered until we knew about it, or about the severity of it. At that point, it became a known event, and you'd have only been covered if you'd booked your trip before it did so.
However, some insurers are still covering future trips, so it's not out of the question. Just make sure you fully understand any policy that you might take.
Pro: You've Got Plenty of Time to Make Alternative Arrangements
Summer 2021 is still a long time away. You still have time to make alternative arrangements and other plans for the summer if your trip was to get canceled, or you were to change your mind.
Con: You Might spend a Year Worrying
Having something to look forward to is good, but will you? If you had a holiday booked, would you look forward to it? Or, would you spend the year worrying about whether it will happen or not? If that's the case, it might be best to leave it until you are more certain.
Pro: You Could Get a Great Deal
Booking early often means getting cheaper deals and the best destinations. With providers trying to boost sales, you might find that the deals on offer are even better than usual if you take the time to look around and book with smaller businesses. You might also be able to get better deals when you arrive.
Once you've weighed up the pros and cons if you decide to make a booking, here are some tips to help.
Keep an Eye on Advice
Every country around the world has its own restrictions and advice. You can read up on How to travel in 2020 if you have a trip booked this year, and advice will continue to be updated as we enter 2021. Keep an eye on the news from around the world and make sure you know about border closures and social distancing guidelines both at home and at your destination.
Get Used to Social Distancing
It's looking like wearing face coverings, extra hand washing, and social distancing is going to stay around for a while. At the moment, it seems unusual, and going on holiday would feel strange and awkward. Get used to it now, and by the time you go away in 2021, it will be completely normal and won't affect your enjoyment of your trip.
Consider a Holiday Closer to Home
If you really want to go away, while reducing the risks to both your health and your trip, consider taking a break closer to home. You certainly don't have to fly to another country to have a fun break with your family or friends.
Only Pay the Deposit
Many travel providers are offering special offers and low deposits to secure bookings. Most are allowing you to pay the balance much closer to your trip to reduce the financial risk. This can be an ideal solution. You might lose your deposit, but if you don't have to pay the balance until close to the trip, you don't have to make a decision right now.
Book a Package Deal
Package deals often offer extra protection and smaller deposits. It also means that if your break gets canceled, you'll only have one company to negotiate with instead of different providers from travel and accommodation.
Consider Shorter Trips
Shorter trips can also offer a less risky alternative to more significant breaks. They are cheaper, and we usually take shorter trips closer to home, where the situation is more likely to be similar to what you are used to.
Stay Healthy
Whatever is going on with the rest of the world, you won't be able to travel if you or another member of your household is ill, even if it's not COVID-19 related, airlines are trying to take fewer risks when it comes to allowing passengers on board.
Practice social distancing, take care of yourself, and find other ways to boost your immunity to give yourself the best chance at being healthy.
Don't Get Your Hopes up
Having something to look forward to is fantastic. But, getting your hopes up at the moment can be a mistake. Try to be realistic with anything that you do book, and don't get your hopes up until you arrive at your destination.
None of us know what 2021 will bring. There may be a vaccine, and there might not. Numbers might be low, and they might not. The virus might have moved into new areas, and the places that you'd like to visit might be unrestricted. There is a risk to booking a vacation for next summer, but in many ways, there always is. If you choose to make a booking, be sensible, and make sure you understand the risks, and stay up-to-date with current advice.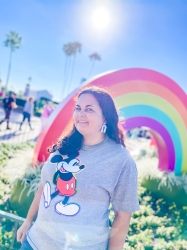 Latest posts by Krystal | Sunny Sweet Days
(see all)