6 Tips for Travelers Seeking a Relaxing Vacation
Nowadays, everyone has a jam-packed schedule. Some people have to juggle between two jobs, while others try balancing personal and work commitments. After all, the hustle never stops; unfortunately, people follow the same approach when going on a vacation. They prepare a long list of must-see tourist spots and new cuisines to try, thinking they can cover everything in one trip.
Believe it or not, operating at full steam on vacation can make you feel like you need a break from your vacation. Therefore, focus on relaxing and rewinding your mind instead of ticking off items from the travel checklist. You can welcome a change of pace and have a relaxing vacation rather than an exhausting one. Go easy with your schedule and plan one thing at a time instead of wanting to do everything in a row.
Firstly, find a vacation spot away from the chaos of the city, such as Gatlinburg, Tennessee. Gatlinburg has become a popular tourist destination for travel enthusiasts seeking natural beauty alongside a stress-free vacation. You can loosen up your itinerary and space out activities with time to rest in between. If you wish to learn more, keep reading. Here we have outlined six tips for travelers seeking a relaxing vacation.
Pick a Soothing Destination
The foremost step to planning a relaxing vacation is to select a peaceful destination that allows you to unwind and relax. If you like beaches, look for a quiet resort on an island to spend your time relaxing and enjoying the sunshine. Otherwise, you can head to the mountains and soak in breathtaking views. The Smoky Mountains have already become famous for their calm vibe and scenic beauty. Instead of fancy and costly hotels and resorts, you can book Gatlinburg cabins for your accommodation. Gatlinburg is a small mountain town with picturesque views and cabins for tourists.
They offer a far quieter and more serene experience than hotels accommodating families and groups. Further, you can look for relaxing facilities in the accommodation like a tranquil site spa, edge pool, etc. Some hotels also have in-house yoga and meditation sessions for their guests; hence, make sure you register yourself. That way, you can pamper yourself without having to go anywhere.
Carry a Comfy Wardrobe
Even though washing clothes isn't painstaking, it is best to avoid this if you want a relaxing vacation. Thus, pack a little generously and bring what you need to feel comfortable during the trip. It could be a muffler, sweater, fluffy bathrobe, or a pillow from home. Likewise, carry clothes you wear when you want to relax and feel cozy.
Besides this, don't forget to carry self-care essentials. If you have any lotions or bath products that help you relax, consider bringing small products in travel containers. Lastly, pack all your fuzzy socks, speakers, and favorite snacks to have a great time. Packing things that help you enjoy the vacation is worth making extra space in the luggage. Hence, don't hesitate and pack whatever you like to have on vacation.
Skip Dine outs
Eating out for every meal on vacation is nothing less than a full-time job. You have to look for a restaurant, make reservations, get ready, and navigate to the restaurant. Imagine doing this thrice a day for an entire week-long vacation. So, how about cooking meals? You can stock the fridge with breakfast and lunch staples to minimize meal prep. Likewise, you can order meal kits for dinner. They have all the ingredients you need and recipes alongside. That way, you can cook delicious meals with minimal effort and planning.
Besides this, you always have the option to get food delivered, especially on the nights you don't feel like doing anything. You can also grab a few ready-to-eat frozen meals and heat them in the microwave.
Unplug from Work
The biggest struggle for most people is leaving work behind. Some people can't resist checking their emails, whereas some workplaces expect their workers to be available on call 24/7. To have a relaxing vacation, you must unplug from work. You can turn off all work-related notifications and inform your office that you are unavailable on the given dates.
Likewise, avoid carrying your work laptop and set clear boundaries with the employer. It doesn't matter if the task takes ten minutes or two; you shouldn't be working on your vacation. However, you can check emails at a specific time if necessary but remain unplugged for the rest of the day.
Treat Yourself to a Spa Day
A relaxing vacation would be incomplete without some self-pampering. So, why not have a spa day? You can try Swedish massage if you prefer a light touch. It will help your body relax and unwind. Otherwise, you can also opt for a deep tissue massage to work out the knots and release stressors from your body. A relaxing spa retreat will also put stress off your mind, ensuring you have a great time.
Furthermore, some travel destinations have unique forms of spa treatments. You can opt for Turkish baths in Istanbul, whereas Iceland has hot springs. Depending on where you travel, explore which relaxing treatments locals prefer and enjoy your break.
Reduce Screentime
Vacation is when you can forget about your daily responsibilities and take a break from your routine. You might feel the urge to keep checking texts and emails but try to disconnect from technology and have a digital detox. It will also ease you from the pressure of updating your social media. People get so immersed in pictures and videos on social media that they forget to enjoy the moment.
While you take a break from your phone, use that time to enjoy some relaxing activities. You can read a book, go for a walk in the mountains, or relax by the pool. Likewise, you can walk around, talk to locals, and learn about their culture.
Final Thoughts
Vacations are the perfect time to unwind while taking a break from the routine hustle. Let yourself slow down and have time for old-fashioned fun like kayaking on a lake or a mountain hike. Likewise, pause social media and office work to enjoy quality time and scenic views and embrace the outskirts. You can also spend some time pampering yourself by doing something that relaxes your mind and body. Before planning the trip, think about what relaxing means for you and plan it accordingly.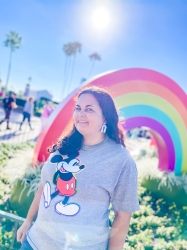 Latest posts by Krystal | Sunny Sweet Days
(see all)