4 Adventures to Experience in Pigeon Forge on a Vacation
The love for adventure is like an addiction. The thrill, the rush, and the adrenaline all make for a combination that is unlike any other feeling in the world. For adventure lovers, there is no end to their search for the next big escapade! If you're an adventure lover considering where to plan a vacation full of thrill and adventure, look no further. We have the perfect choice set out for you.
That's right; we're talking about the gorgeous town of Pigeon Forge in Tennessee, where there's much more than meets the eye! Near the Great Smoky Mountains, Pigeon Forge is the perfect place for a vacation while you're off to all your thrilling adventures and escapades! From ziplining to river rafting, plenty of exciting activities are available in the area. Read on to find out how to make your trip to Pigeon Forge full of thrill and adventure.
Where to Stay in Pigeon Forge?
We've all heard the saying 'the more, the merrier' throughout our lives. It applies quite literally when planning a vacation, especially when looking for thrill and fun! Although you can easily plan a solo trip as well (and have just as much fun as you would in a group), having your friends with you on an adventure-filled trip makes it all the more fun. You must complete the necessary bookings in advance based on the number of people going on the trip.
If you're looking for a Smoky Mountain retreat to accommodate a large group, start by checking out the available options. A great choice is opting for rental cabins in Pigeon Forge TN that can house multiple people. You can easily find big cabins in Pigeon Forge with as many as nine bedrooms that can comfortably accommodate over 30 people. With your lodging sorted, you can get started on planning your itinerary.
Adventures in Pigeon Forge
Pigeon Forge is a mountain town located mere miles away from the country's most-visited The Great Smoky National Park. Besides, there are many fun activities and thrilling adventures for vacation-goers in Pigeon Forge. If you need help to plan your trip, here are our top picks for adventures to experience on your vacation in Pigeon Forge.
Ziplining across the Smokies
A popular activity for tourists in Pigeon Forge is to zipline across the Great Smokies. There are several places in the Great Smokies which offer ziplining. Each has different routes and features, where some offer short ziplines at a low height that people of all ages and preferences can enjoy, while others genuinely call out to the risk-takers. In the latter options, you can glide through the park at speeds as high as 60 mph at heights over 500 feet. All this, along with the stunning aerial views of the Great Smokies, should satisfy the adventure lover in you.
Our favorite ziplining activity in the Great Smokies is the Goliath Zipline Tour at Foxfire Mountain Adventure Park, which is less than 12 miles from the main city of Pigeon Forge. As the region's fastest zipline with the longest connected zipline path, the Goliath Zipline is the best experience you can ask for. 
'Flyaway' Indoor Skydiving
Open Thursday through Tuesday every week, the Flyaway Indoor Skydiving center at Pigeon Forge is an activity that is sure to get the adrenaline pumping in your veins. As the country's first vertical wind tunnel, the Flyaway center allows you to experience actually flying away without having to jump from a scary height! With simulator winds of 120 mph, you can feel the same thrill that comes while attempting actual skydiving.
If you're concerned about the activity taking too much time with individual flights, you will be glad to know that the Flyaway center also offers group activities. Since all flyers undergo a 15-minute training before starting, the activity is enjoyable for anyone at all levels. Further, as experienced professionals man the Flyaway center and follow all safety protocols down to the letter, you can be sure that you are safe.
River-Rafting on the Pigeon River
Our favorite water activity in Pigeon Forge is river rafting. From late March to September, the waters of the Pigeon River are ideal for river rafting, especially on hot days in July when the heat index can make it feel like 90°F.
Based on where you're staying, find nearby river rafting businesses and make a booking in advance, especially if you're visiting during the summer. With that sorted, prepare to splash through the rushing waters of the Pigeon River with a gorgeous view of the surrounding Great Smokies and live your adventure dream.
Hiking the Trails
A visit to any mountain town is incomplete if you don't go for a hike. Depending on how adventurous and energetic you feel, you can choose from the hundreds of hiking trails within the Great Smokies. For the adventure lover, climbing up one of the longer and steeper trails is just the thing to get the adrenaline rushing. The hike experience is truly unlike any other, where you disconnect from the digital world and connect with the nature. 
Traveling on foot through the gorgeous mountain terrains and lush trails with natural wildlife all around allows you to break away from the pressures of life and connect with your surroundings. We recommend setting out early to enjoy the morning sun and quiet to make the experience unforgettable that you look back to for years to come.
Final Words
From the name and initial impression you get of Pigeon Forge, it is thought to be a small-town retreat for a relaxing holiday. However, as you delve deeper, you realize that the city has much more to offer, especially thrill and adventure. In addition to the above activities, you can do plenty of other things in Pigeon Forge, such as rock climbing, go-karting, or even snow sports. It all depends on the type of activities you want to engage in, We don't know about you, but it's safe to say that by now, we're excited about the adventures on offer at Pigeon Forge. Our sincere advice is to take advantage of your vacation in this mountain resort; it will be the experience of a lifetime!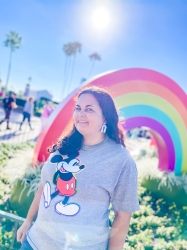 Latest posts by Krystal | Sunny Sweet Days
(see all)