Are You Excited About Your First Business Trip Abroad- Here is How To Prepare
A first business trip can be exhilarating and nerve-wracking. You're looking forward to new opportunities and experiences but worried about the potential culture shock and language barriers. You're also not sure what to expect in terms of business etiquette. Here are a few tips on how to prepare for your first business trip abroad:
Do Your Research
Before you go, research the country and culture you'll be visiting. This includes customs, business etiquette, and common phrases in the local language. The more you know what to expect, the less daunting the trip.
Also, research the different modes of transport, weather conditions, and other relevant information to make your stay more comfortable. How will you get from the airport to your hotel? What's the best way to get around the city? What should you pack? Research about Orlando airport shuttle to hotel if in the area. Would you instead opt for a private transfer?
Get Your Visa
One of the most important things to do before any trip is to make sure that all of your paperwork is in order, including your visa. If you're not sure how to get a business visa or where to start, don't worry! There are many professional services available that can help you get everything taken care of quickly and easily.
When it comes to business visas, the process can be a bit confusing and time-consuming. However, with the help of professional service, you can get your Turkish visa for Americans in no time. They will take care of all of the paperwork and requirements, so all you have to do is sit back and relax.
Pack Light
One of the most stressful things you can do is pack too much into your suitcase. It will make it difficult to get around. You'll likely forget something important. Stick to the essentials and pack light. First, keep aside the critical documents and anything you require for the business trip. Do you need to bring along particular files or a laptop? What about your business cards?
Next, think about what you need in terms of clothes and toiletries. Again, only pack the essentials and make sure to pack items easy to mix and match. Don't forget to leave some space in your suitcase for souvenirs. Keep some money aside to buy essentials when you reach your destination in case you didn't pack enough or forgot something critical.
Make a Schedule
One of the best ways to make the most of your time abroad is by scheduling your activities in advance. Allocate time for meetings, sightseeing, and networking events. By having a schedule, you can better manage your time and make the most of your trip. Limit the number of activities you pack into each day to have enough time to rest and explore.
Stay Connected
Stay connected with your office back home, especially if this is your first business trip. Stay in touch with your boss and colleagues through email, phone, or video calls. If possible, set up a daily check-in schedule so that everyone is on the same page. This ensures that work gets done while you're away.
Additionally, create connections in the new destination even before you arrive. Try to find networking events or meetups related to your industry. Attend trade shows or conventions if possible.
Doing this expands your professional network and creates valuable contacts. Get to befriend a few locals even if they're not business contacts. They could come in handy later on.
Keep a Positive Attitude
Keep a positive attitude throughout your trip. Things might not always go according to plan, but that's okay. Embrace the unfamiliar and roll with the punches. Be open to new experiences, and you're sure to have a memorable trip.
Most importantly, don't forget to have fun. Remember, this is also a chance to explore a new place and culture. Take some time to sightsee, try new food, and meet new people. By the end of your trip, you'll be glad you did. You can even extend the trip by a day or two to explore more if you're having a good time.
Take Time to Plan
Planning your first business trip abroad ensures that you'll make a good impression on your boss and colleagues. It also allows you to get the most out of your trip, professionally and personally. You'll not be confused or lost, and you'll be able to focus on your work while enjoying time in a new place.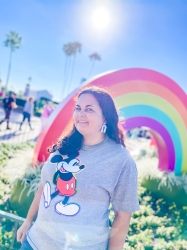 Latest posts by Krystal | Sunny Sweet Days
(see all)