7 Kinds Of Vacations To Consider This Year
You have been grinding away this year, and it's about time you took that well-deserved break you've been longing for. Whether it's a nine-to-five in the office or whether it's staring at textbooks and articles for months hoping to gain that extra bit of knowledge, people can't just spend all of their days in work mode. When you get that lovely time off to relax and do anything other than work, you have an almost unlimited amount of things you can do. Naturally, the most popular thing to do is to go on a wonderful vacation.
You've probably been on a vacation of some sort before, right? Everyone has. It's a time away that always guarantees memories – whether it's embarrassing ones from partying all the time or beautiful ones as you recall the amazing sights you saw with the best people.
If you have got the free space soon, and you're still mulling over where you want to go and what you want to do on your next vacation, then there are a bunch of different avenues you can explore. Let's have a little look at some now.  
Beach Vacation: Who wouldn't want to spend a bunch of days or weeks in an amazing climate lying on a beach with a cocktail? The rays of the sun tanning your body whilst the cool breeze of the ocean stopping you from getting too hot and bothered – it's magical. Booking a place down by the coast doesn't seem like too much of a chore if it means you get to bath in the amazing ambiance and bliss every single day!
City Break: Are you a little too stuck in suburban life or do you live in a place that's a little too rural? Maybe a short break to the big city would be a nice change for you? Places like New York City will not be going out of fashion anytime soon, so you could take a few days off and explore everything the big apple has to offer. It might seem a little daunting at first being around the hustle and bustle, but you get used to it!
Lakeside Retreat: Or maybe you'd like to do the exact opposite of a big city move. Perhaps you're sick and tired of the hustle and bustle and you want nothing other than peace, serenity and a limited amount of humans annoying you! Finding a little cabin on a lake might just be the perfect place for a vacation if that's the case. Feeling nature all around you with the startlingly relaxing views for a few days will add years to your life.
Camping: Similar to the idea of getting yourself in amongst nature and the wilderness: maybe you can spend a few days going camping. It gets a bad reputation amongst highly privileged people because you're likely to get mucky and it's a lot of effort to live like this, but it's rewarding and something completely new. You can be at one with the natural world whilst learning a few things along the way.
Road Trip: If you or your friends cannot drive, then you're going to have a hard time with this one unless you become part of a coach trip with a guide or something. But if you can drive, then it's a great idea. You get to head to your destination whilst sharing a load of laughs along the way. You can really make a great time of it all – from start to finish. You'll look forward to reaching the vacation spot, but you can even customize the car for the occasion, too. Shake up the interior, give it a wacky custom paint job or add personalized number plates to it. Just make sure you're all prepared before you leave, you don't want to get halfway there and realize you've made a big mistake!
European Adventure: Who doesn't like the idea of venturing away from the continent and hitting a new one? It might seem like an effort, but you wouldn't regret leaving home for a little while and visiting the beauty of Paris, the charm of Rome or the elegance of London. The change of culture would teach you a lot about the world as well as giving you a new found respect for how life is different.
Adventure Break: We've talked about getting out and doing something completely different – removing yourself from your comfort zone may seem creepy at first, but it's definitely good for you in the long run. Skiing is super fun and healthy – perhaps you could hit the slopes for a week or two? Ever been hiking up a mountain before? You probably never expected to do it, so how about giving that a go?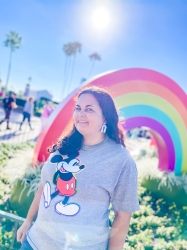 Latest posts by Krystal | Sunny Sweet Days
(see all)