How to Save Money on a Cruise
Taking a cruise is a great way to see the world, create wonderful experiences and memories, and expand your horizons. If you aren't careful though, hidden fees and unexpected expenses can create an unhappy financial experience. Unless you pay for an all-inclusive trip where everything is covered for one price, you are going to have to be careful about how you spend your money, especially if you are traveling on a budget.
First-time cruisers are often shocked to discover that they can easily spend 30% to 50% of the price of their cruise on things like bar tabs, extra meals, and souvenirs. Often times, you can spend as much money on these and other expenses and experiences as you did on your tickets before your cruise is all said and done. To keep from accidentally breaking the bank and blowing your budget, keep the following 6 money-saving cruise travel tips in mind.
Ask about Beverage Packages. Not everyone plans on drinking a lot of alcohol on a cruise. Even so, prices for adult beverages and even nonalcoholic drinks can be higher than you are expecting. To save their clients' money and keep them coming back for more, cruise lines sometimes offer flat-fee package services for unlimited amounts of drinks. You could pay just a few bucks for unlimited bottled water each day, or more for unlimited adult beverages. When you are ready to book your next cruise holiday, consider all of your options.
Take your own photos. It is easy to get caught up in the moment and quickly say yes when someone offers to take your picture to commemorate your cruise. You can expect to pay $20 or more for a simple 8 by 10 photo. Whip out your smartphone and have someone capture your images and videos there instead. Cameras have come a long way now too, and you can invest in a simple point and shoot camera or try a mirrorless camera so you can take your own "pro" photos. Look for indirect lighting for best photo light and learn how to edit your photos for brightness and clarity.
Skip the wifi! If you are hopelessly tethered to your smartphone, you had better learn to get by without it. Surf the web in-port instead.
Wash Your Own Clothes. Expect to pay $2, $3 or more per item of clothing to have your cruise line handle your laundry for you. Either pack enough clothing so you don't have to wear anything twice, or hand wash your clothes in the bathroom sink of your cabin.
Strike Out on Your Own. This is not a baseball reference, but rather a suggestion that you can save lots of money by exploring ports of call on your own. For safety, you may consider traveling in a small group. As soon as a large cruise ship enters a port, you can be sure there are going to be plenty of exciting and enticing activities which the locals are going to be offering, some of them costing more than just a few bucks. As long as you keep safety in mind and refer to guidebooks or travel books, you can explore the real culture and geography of a city inexpensively and on your own, rather than being shown the often artificial reality reserved for tourists.
Stick to the Free Meal and Buffet Offerings, or Purchase a Restaurant Package. One easy way to save money while dining is to exclusively eat the many free meals and snacks which are offered. If you do want to enjoy some fine dining, most cruise lines offer restaurant dining packages that can save you substantial money over the regular prices.
Travel Tips for Busy Women
A cruise can be the PERFECT holiday idea, and we hope this inspires you to book your next trip! What ports do you want to see? How about a European cruise or a Caribbean getaway?!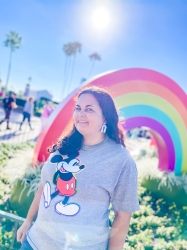 Latest posts by Krystal | Sunny Sweet Days
(see all)