How to Properly Prepare for Your First Golf Game
Golf can be an intimidating sport to start playing, but with the right preparation and attitude, you'll be teeing off like a pro in no time. Whether you're new to golf or coming back after some time away from the course, it's important to take the necessary steps prior to your first game. From selecting clubs and practicing your swing, to dressing appropriately for the day's weather conditions, these tips will help ensure that your first golf experience is enjoyable and memorable. So grab your clubs and get ready for a fun round of golf!
Get The Right Equipment
Golf is a game that requires special equipment to play. Before you hit the links, make sure you have everything you need. At a minimum, you will want golf clubs, including a driver, fairway woods, irons, and wedges. You'll also need golf balls and tees. When it comes to choosing between soft vs hard golf balls, it's important to consider factors such as your swing speed, playing conditions, and personal preference. Soft golf balls tend to provide more control and spin around the greens, while hard golf balls can offer greater distance and durability. Experimenting with both types can help you determine which suits your game best.
Depending on your skill level and preference, the right equipment on a golf course can make a big difference. There are a few things to keep in mind when choosing equipment. Here are some of the most important ones:
Know your skill level: When selecting golf clubs, it is important to pick ones that match your abilities. If you are a beginner, you may want to start with a set of forgiving clubs that will help you get acclimated to the game.
Choose equipment based on personal preferences: Every golfer has different swing characteristics, so make sure to choose clubs that fit your unique style. If you are unsure, take time to practice with different clubs until you find the ones that work best for you.
Take into consideration weather conditions: Different golf courses have different environmental factors, such as terrain and weather. Make sure to have the right equipment to match the course's conditions.
Practice Makes Perfect
Golf is a game of precision and skill, so it's important to practice as much as you can before your first round. If possible, attend some beginner classes or lessons at the local driving range to learn the basics. You'll get a feel for the clubs and learn some techniques that may help you on the course. Practicing at the range is also a great way to hone your skills and build confidence before heading out on the links. Discover new courses with member-to-member reciprocity on premium courses worldwide, learn more about links golf.
When practicing, it's essential to focus on your form. Pay attention to the way you hold your body, grip the club, and swing. You should also practice the various shots you might need during a game so that you are comfortable with each one when the time comes.
It's also important to get familiar with golf etiquette before playing a round. Knowing the proper way to act on the course will help you feel more at ease and avoid any embarrassing situations. Be sure to read up on things like rules, dress code, the pace of play, and other courtesies so that you can be a good sport when playing with others.
Choose Appropriate Clothing
When it comes to golf, the right clothing is essential. You don't want to be out on the course too cold or too hot and uncomfortable in your clothes. Choose an outfit that will keep you at a comfortable temperature while also allowing movement. The key is to pick something appropriate for the weather and choose fabrics designed to move with you. Shorts or slacks, collared shirts, and golf shoes are the basic components of a golf outfit. Whatever you wear, make sure it is comfortable enough to move in and provides some flexibility for your swing.
Bring Extra Gear
Golf can be unpredictable so it's important to bring extra gear with you when you play. Things like extra balls, a towel to clean clubs and balls, sunscreen, hats, and bug spray can all come in handy during a round. You may also want to bring snacks and drinks so that you don't get too hungry or thirsty throughout the game. Having this additional equipment will help ensure that your first golf experience is both enjoyable and successful.
Follow these tips and you'll be well on your way to having a great time out on the course. With the right equipment, practice, and know-how, your first golf game will be an enjoyable experience that you can look forward to for years to come. Finally, don't forget to warm up before you start playing. Just like any other sport, golf requires physical preparation. Warm up your muscles with some light stretching and do a few swings to get a feel for the club before teeing off. This will help you get the most out of your game and it may even help you improve your score! Be sure to have fun, stay safe, and enjoy the game! Good luck out there!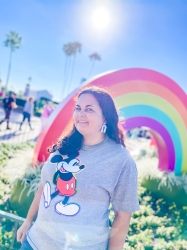 Latest posts by Krystal | Sunny Sweet Days
(see all)