Tips For Planning Your Winter Getaway
The winter months can be the perfect time to go away for many. For some, it can be a time to stay at home and hibernate, but for others, it provides the opportunity to travel and see other countries. There are so many places that are perfect to visit in the winter months. For example, there are so many things to do in Reykjavik in the winter that you may not get to experience in the summer months. Below are four tips for planning your winter getaway.
Check the weather conditions
Before booking any flights or accommodation, check the weather conditions for the month you are choosing. Depending on your destination, many countries have certain months that you want to avoid going in. Weather forecasts aren't always the most accurate thing in the world but they give you a rough indication of what to expect. That last thing you want to do is arrive at your destination to arrive in hurricane weather, or worse yet conditions that your flights are cancelled.
Book early
The sooner you book your trip away, the more likely it is that you will get a better price. If you leave it to the last minute, it could be a lot more expensive, or worse sold out! Make sure you do your research on the best places to stay in that area and check the reviews of the hotel you are planning on staying at. You may find the photos look nice on their website but when you look at the TripAdvisor photos, they are the total opposite. If you are planning on a romantic getaway in the winter months, the sooner you book the better the room availability will be as well. Look for rentals that offer keyless entry, this will help you to bypass the traditional keys and streamline your process quickly. 
Travel Insurance
When going away it is vital that you have travel insurance. Travel insurance is there to help you in case of an emergency and to cover you for the unexpected. Most travel insurances now cover you for covid-19, making them a vital thing for when you travel. Travel insurance brings peace of mind along with many other benefits. When getting a quote for your travel insurance take a look at some comparison sites. Comparison sites will compare all the rates on the market and present you with the best one.
Airbnb or Hotel
Depending on your budget may decide on which you opt for. Predominantly hotels are more expensive than Airbnb, but some Airbnb's can be more expensive when you go for the more luxurious accommodation types. When booking your winter getaway have a think about which one you would prefer. Both have their pros and cons. If you are thinking of going away with friends or family, you may find that an Airbnb will suit you. Whereas if you are thinking of a romantic breakaway, a hotel may suffice.
Where will you be visiting in the winter months? What tips do you have for planning your winter getaway? Have we missed a tip that you would like to add? Let us know in the comment box below.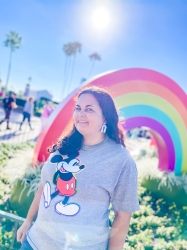 Latest posts by Krystal | Sunny Sweet Days
(see all)