6 Popular Travel Destinations Worth Adding To Your Bucket List
If you're looking for some new travel inspiration, look no further! These 6 popular destinations are definitely worth adding to your bucket list. From the stunning natural beauty of Norway to the historic streets of Prague, there's something for everyone on this list. So start planning your next adventure today!
Rome, Italy
Rich in culture and history, Rome is a vibrant city that has something for everyone. From ancient ruins such as the Colosseum or Pantheon to Baroque-style masterpieces like St. Peter's Basilica, visitors can explore some of the most iconic sites from Italy's historical eras. The Trevi Fountain is one of the most popular tourist attractions in Rome, but it's easy to feel a sense of awe when admiring Florence's Galleria dell'Accademia too. You can take a guided tour through spectacular ruins like the Forum Romanum and Palatine Hill or simply marvel at Michelangelo's famous frescoes on the ceiling of the Sistine Chapel. Whatever your interests may be, there are plenty of amazing experiences just waiting to be discovered in Rome, making it a wonderful destination for anyone eager to explore its unique charm and beauty.
Oslo, Norway
Oslo, Norway is a travel destination unlike any other. With its cobblestone streets and beautiful fjords, it exudes a certain charm that makes it tempting for travelers from all over the world. Its unique blend of modern, urban energy and quaint natural beauty can be experienced just about anywhere you set foot in Oslo – from the art galleries and cafes to the majestic mountaintops and undiscovered beaches in the area, there is something special waiting for all who venture there.
Istanbul, Turkey
Istanbul, Turkey is a spectacular city with plenty to see and do. Istanbul has over its 15 million inhabitants, making it the largest city in Turkey and one of the largest cities in Europe. Istanbul is a city known for historical monuments, bustling bazaars, lively nightlife scenes, trendy coffee shops and breathtaking sights along the Bosphorus Strait separating the continents of Asia and Europe. With Istanbul attraction tickets you can explore many iconic places like Istanbul's Grand Bazaar and Hagia Sophia Museum. The Istanbul Aquarium is also a top spot to visit -it is home to 30.000 species of aquatic wildlife both from fresh water locations as well as the depths of the Mediterranean Sea and Black Sea. Istanbul really packs an adventure into each day!
Prague, Czech Republic
Prague, Czech Republic is one of Europe's most enchanting travel destinations. Whether you find yourself captivated by the historical beauty and charm of Prague's Old Town Square or intrigued by past tales told within the city, there is something unique and remarkable to explore around every corner. From Prague Castle and its century old grounds, to the striking astronomical clock tower located in Old Town Square, visitors to Prague can marvel through a plethora of iconic sights and memorials that represent centuries-old European history. Perfect for travel at any time of year, Prague is a destination sure to fulfill any travel seekers desires.
London, England
London has been an integral part of world history since ancient times and is home to some of the most iconic landmarks on earth. From Big Ben to Westminster Abbey, London is draped in history and infrastructure ranging from centuries ago right up to the modern day. There's something for everyone here: From the Tower of London, to St Paul's Cathedral, to hundreds of boutique shops and historical pubs – you can hardly wander 25 feet without seeing a piece of history making you pause and reflect. Even for a non-tourist, walking these streets is impressive as you soak up culture from every angle. There's no wonder why London continues to be one of the premiere cities in the world.
Tokyo, Japan
Tokyo is a city like no other. It is the heart of Japan and a bustling, energetic metropolis—a unique blend of traditional and modern culture unlike anywhere else in the world. The streets are alive with endless throngs of people and neon signs shining at all hours of the day. Beyond that, though, it is also full of temples, shrines, and historical sites that hark back to a much different era—it truly is possible to experience two very different eras within just one day spent touring Tokyo. With flavors from all around the globe, stunningly diverse architecture, interesting customs, and traditions; it's no wonder why Tokyo is considered one of the most exciting cities on Earth.
So, what are you waiting for? Start planning your next vacation to one of these amazing travel destinations. And don't forget to add them to your bucket list!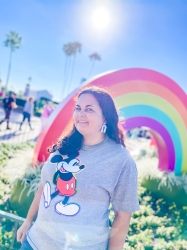 Latest posts by Krystal | Sunny Sweet Days
(see all)