Things to know before traveling to Europe
If the next destination on your travel bucket list is visiting any of the 40+ countries in Europe this year, we're not surprised! Europe is a big continent with many things to see and explore. With its diversity of cultures and accompanying beautiful landscapes, you'll undoubtedly enjoy wandering around Europe.
Visiting any place for the first time can be scary since it's hard to figure out where exactly to start with your planning. But don't worry; here is our checklist of everything you need to know before embarking on your journey.
Make sure that you bring a valid passport
If you're planning a vacation abroad, collecting your documentation has to be at the top of your list. If your passport is about to expire, have it renewed. Many countries in Europe require your passport to be valid for at least six more months following your return.
Check the VISA requirements
US citizens won't need a classic visa to travel within most countries in Europe. However, always check out the specific requirements for your travel plans.
Starting in 2023, US citizens will need to apply for an ETIAS visa if traveling to EU countries—those are 27 out of 44 European countries. Luckily, applying for an ETIAS visa is not a complicated process. It requires you to fill out an online application with your information. Part of the process includes an ETIAS criminal record check but doesn't mean you will automatically be denied if you have one.
Start planning early
You'll get the best deal on your flight if you book several months in advance. This applies to your accommodations as well. The number of tourists coming to Europe each day might number in the thousands, especially during the summer when it is the peak travel season. To ensure that you receive a decent rate and your desired hotel, make your reservations at least a month in advance.
Don't exchange your money beforehand
Some people may make the mistake of coming to a European country expecting the currency to be the Euro, but that's not the case in most countries. Almost all countries have their own national currency, so don't make the mistake of exchanging all your money before you find information about this.
Pack light
We know it's hard to resist the urge to pack almost everything that you own in your suitcase 'just in case', but you should skip that out when traveling to Europe.
There are more fun ways to spend your time than just checking your suitcases on the cobblestone streets or trying to fit a big bag on public transportation. This is why bringing just a small hand luggage is perfect. If you're staying longer than a week, consider doing your laundry at least once on your trip so you won't have to pack different clothes for every day of your stay.
Don't get overwhelmed by trying to see everything
Traveling to Europe is a dream come true, and you probably already have many must-see spots on your bucket list. However, it is nearly impossible to see it all in one trip. So, pick out a country and a city or two that you want to visit and travel slowly to enjoy everything the culture offers. You'll enjoy it more, and it'll motivate you to come back again.
Learn about the transportation
Before you arrive at any place, take some time to research about the dominant way of transportation. In some instances, all you'll need to purchase is a metro card, whereas other countries rely on a bus or trolley network. To prevent feeling intimidated or confused when you arrive, it is helpful to be aware of this information beforehand.
Bring both your card and cash
Don't forget to call your bank and let them know where you'll be if you're traveling to Europe with a credit card. If your bank has concerns about why your card is suddenly being charged someplace in Italy, your card may be denied or put on hold.
You should always carry extra cash in addition to your card. You don't want to be left without money if your card stops working for whatever reason because not all services accept cards. ATMs allow you to withdraw cash and automatically convert it to local currency, which is a significant benefit.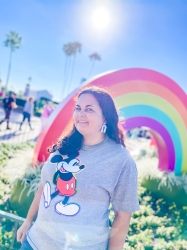 Latest posts by Krystal | Sunny Sweet Days
(see all)