9 Confidence-Boosting Wellness Routines For Men Over 50
As we get older, it is natural to feel a little less confident in ourselves and our bodies. No one relishes the idea of ageing, but it is a normal part of life that should be met head-on. If you're a man feeling self-conscious about your looks as you head into your 50s, you're not alone. While ageing is inevitable, feeling negative about ageing does not have to be.
Men and women both feel pressure in different ways to conform to standards of beauty and aesthetics. The best thing you can do is find ways to change how you see yourself and rewire your internal voice. This could be through physical changes, such as working out or learning new grooming habits, but it also means improving your mental health and embracing positive thinking.
Start Every Day With Movement
Many people live sedentary lives nowadays, and a lack of exercise has been shown to result in poor mental health and self-image. Moving, even gentle low-strain exercise, can help you start your day well. It can also help to strengthen your body and boost your confidence in your abilities. If it has been a while since you worked out last, starting each morning with a short walk can help you break out of your sedentary life.
Hire A Personal Trainer
The stronger your body, the more confident you will feel in yourself and your abilities. Being physically fit and active can also help reduce the risks of many serious illnesses and injuries as you enter your 50s and beyond. It can be tricky to know where to start when strengthening your body. A daily walk, as mentioned above, can help as a starting point, but you may need more intense workouts to help you get the most out of your body. A personal trainer can be invaluable in helping you improve your physical health, as they can assess your current fitness level and provide tailored advice and motivation to help you reach your goals.
Step Out Of Your Comfort Zone
By the time you've reached your 50s, you likely will already have an established and comfortable routine. There's nothing wrong with a good routine, but it is still important to step outside of your comfort zone occasionally. Trying and doing new things can help energise you and massively boost your confidence in yourself and your abilities. For instance, taking the leap and switching careers can be invaluable if you feel stagnant or stuck in your job. Even something as simple as exploring a new place or starting a new DIY project can make a huge difference.
Get Help When You Need It
Though talking about emotions can often be difficult for men, this stereotype is steadily being challenged and changed. It is okay for men and women to struggle and need help and advice from mental health professionals – more than okay, it is healthy. Talking to a therapist or counsellor can be incredibly helpful if you're feeling very low, anxious or worried about ageing. They will be able to give you advice and tools to help you overcome your concerns and find healthy ways to cope with challenging times. Just as you would see a doctor when you have symptoms of a physical illness or injury, it is just as normal and acceptable to seek help for mental health symptoms.
Keep Your Hair From Thinning
Hair loss is a leading cause of low confidence in men over 50. Many men will experience hair loss, thinning or baldness throughout their lives, which can cause significant anxiety. One of the best things you can do is tackle the issue early. If your hair is thinning, there are treatments available that can help promote hair growth and prevent thinning. Chemist4U has a range of treatments available, including Finasteride which is a medication that is known to prevent thinning hair from worsening. There are also options like hair growth shampoo for men.
Embrace Your Grey
Greying hair is another common concern for men over 50. Embracing your greys may feel easier said than done, but it can be crucial. The silver fox look might not be for everyone, but covering up greys with hair dye can often be more noticeable than simply embracing the colour change. You could consider visiting a barber for advice on the right way to style or cut your hair to suit the greys that you have. You could also ensure that you know how to care for your greying hair, which can help it look thicker and more luscious.
Step Back From Social Media
Social media has been shown to have a negative impact on mental health and self-image. Much of what we see online is an idealised version of reality. People cultivate their social media feeds and are carefully selective about what they post online. As a result, scrolling through your social media might mean you take a direct hit to your self-confidence, comparing yourself to an impossible standard that can only be achieved with the right lighting, makeup and filters. Taking a step back from social media can do wonders for your mental health, so consider taking regular breaks.
Sleep Well
Poor sleep can have a wide range of implications for our health and appearance. Low sleep quality can result in premature signs of ageing, such as wrinkles and lines. It can also cause under-eye bags, duller skin and overall low energy. Sleep is a vital way to recharge, and if you're regularly not getting enough sleep or getting poor quality sleep, it is crucial to find out why and make changes to improve it.
Assessing your sleeping space can be a good place to start. Your bed and pillows should be comfortable, lump-free and supportive. If your pillows and mattress are older, it may help to invest in new ones, as most mattresses have a lifecycle of around ten years, and pillows around two to three years. You should also get into a good sleep routine, with a set time to wake up and sleep each day.
Cut Back On Bad Habits
It is normal to have collected a few bad habits by the time you reach 50, but it is crucial to understand how these can impact your self-image and confidence. Smoking is one of the worst habits for self-image, as it can make our skin look and feel duller and older, to say nothing of the significant health implications of smoking long-term. If you're a smoker, you might be surprised by the positive changes in your appearance and mental health that quitting can bring.
Another common vice for men over 50 is drinking alcohol. The occasional pint or two with friends or colleagues can be part of a normal and healthy social life. However, if you find that you're regularly drinking enough to experience a hangover, it is important to re-evaluate your alcohol intake. Alcohol has been linked to poor sleep quality, increased weight gain, depression and anxiety. It is crucial to drink within the NHS guidelines on alcohol consumption to reduce the risks associated with it.
Conclusion
Men often find it more difficult to talk about their feelings of self-consciousness or poor self-image. Though this is changing, with men feeling better able to embrace their emotions and bodies, it can still be tough to deal with the physical signs of ageing. Fortunately, there are steps that any man can take to help them feel more confident and self-assured in their skin. It is essential to address any underlying self-image issue you may have to make peace with ageing and make changes that help you feel confident inside and out.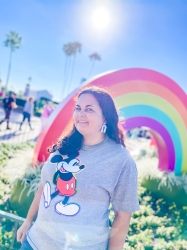 Latest posts by Krystal | Sunny Sweet Days
(see all)