The Top 5 Attractions on Yas Island That Will Help Cool You Down This Summer
When summer rolls around, your thoughts may revolve around going to the beach or a nearby swimming pool to take a dip and cool down.
These places are the perfect spots for various fun and exciting water sports and activities, such as swimming, volleyball, and water polo.
You can also immerse yourself in the beautiful seaside scenery and blissful vibe as you lie on the sand or poolside to enjoy a few hours of rest and relaxation.
However, if you're on Yas Island, the beach and pools here aren't the only places where you can go to cool down, have fun, and relax.
Yas Waterworld Abu Dhabi's many slides, attractions, and rides, which include the region's fastest water slide, let you experience all these and more this summer.
Where to Cool Down on Yas Island
When you're on Yas Island, visit these attractions to refresh yourself and engage in plenty of fun and relaxing activities:
Yas Waterworld Abu Dhabi
Yas Waterworld Abu Dhabi is a world-famous, attraction-packed water park in the United Arab Emirates.
It features over 40 water slides, rides, and attractions featuring various thrill levels.
The most popular attractions here that cool you down and give you an exciting time include:
Dawwama – the largest six-person high-speed tornado water coaster on the planet.
Falcons Falaj – the longest six-seater water coaster ride in the world.
Bubbles Barrel – the water park's surfing spot featuring the largest sheet wave in the world.
Liwa Loop – a high-intensity looping water slide with a freefall drop entry, the first in the Middle East.
Bandit Bomber – the longest six-seater suspended water roller coaster ride in the region.
Slithers Slides – a serpentine-inspired water slide that ends in a cool landing pool.
Hamlool's Humps – a tall speed slide with three exciting massive humps.
Rush Rider – the water park's endless sheet wave where you can try bodyboarding.
If you're on vacation with your family and looking for more relaxing activities and experiences, spend time at the Al Raha River, Amwaj, and Yadi Yas.
For an extraordinary experience, head to Cinesplash. This exclusive 5D attraction lets you watch a movie and join in on the adventure as the cinema immerses you in various special effects, including waterfalls, water explosions, and moving seats.
The theater gets flooded with water up to the knees during the movie as well.
Try the Underwater VR Experience and Pearl Diving Experience to complete your visit and have a more memorable time in Yas Waterworld Abu Dhabi.
Yas Marina
Yas Marina not only serves as the berth for yachts and other sea vessels that dock on Yas Island; it is also an activity hub featuring a variety of dining, fitness, and leisure facilities.
At Yas Marina, you can try different exciting water sports and adventures, including:
Parasailing
Kitesurfing
Wakesurfing
Wakeboarding
Hydrofoil surfing
Yas Marina is also home to the Yellow Boats, which provide guests sightseeing tours around Dubai and Abu Dhabi.
Additionally, The Captain's Club, the biggest boat club in the UAE, and Xclusive Boat Club, a yacht chartering service provider, can be found at Yas Marina.
You can also learn about sailing and rowing at Yas Marina's Sailing and Rowing Center.
Once you're done engaging in your choice of water activities and sports, grab a bite at one of the top dining spots here, which include Aquarium, Boroughs, Cipriani, and Casa de Cuba.
The Fountains
Located between Yas Mall, CLYMB Abu Dhabi, and Ferrari World Abu Dhabi, The Fountains, as its name implies, highlights a magical dancing fountain show at night.
However, children are allowed to splash and play in this massive water feature during the day. If you visit this place with your little ones, be prepared to get wet and have fun as well.
But aside from the water feature, The Fountains boasts several indoor and outdoor dining establishments that give you incredible views of the dancing fountain show at night. You can relax and enjoy the show as you enjoy a delicious meal or a cup or glass of your favorite beverage.
Some of these restaurants include the Bosporus, Italian Barrista Café, Rainforest Café, and Al-Fanar.
Yas Bay Waterfront
Located in the southern part of Yas Island, the Yas Bay Waterfront is the island's newest epicenter for leisure and entertainment.
Yas Bay Waterfront features over 20 alfresco restaurants, cafés, and bars on the pier and waterfront plaza. It also has a floating beach club, a concert arena, an entertainment zone, and a luxury hotel.
This leisure and entertainment hub is set to be Abu Dhabi's top nightlife destination. It is already home to Asia Asia, The Trilogy by Buddha-Bar, Akiba Dori, Paradiso, and Lock Stock & Barrel.
The hotel features a swimming pool overlooking the beautiful bay, making it the perfect spot to relax and unwind.
You can also go for a sunset stroll along the promenade dotted with beautiful artworks by various artists.
Yas Beach
Yas Island boasts one of the most beautiful beaches in Abu Dhabi – Yas Beach.
If you want to enjoy some beach days this summer, Yas Beach should be your destination.
Staying at one of Yas Island's hotels and accredited hotel apartments gives you complimentary access to Yas Beach, which boasts soft white sand and clear blue waters.
You can also explore the nearby mangrove forest, which is home to a variety of fascinating plants and wildlife.
The beach has a number of loungers where you can relax and immerse yourself in the beautiful scenery.
Additionally, Yas Beach has an infinity pool where you can take a dip or relax poolside. This area has several private chalets, bars, and restaurants where you can unwind as you enjoy a scrumptious meal or snack and sip on your choice of refreshment.
As a bonus tip, if you're visiting Warner Bros. World Abu Dhabi with your family or for a ladies' night in Abu Dhabi with your friends, be prepared to get drenched and have fun on The Flintstones Bedrock River Adventure.
This ride takes you on a scenic boat tour of Bedrock with the Flintstones family. However, be prepared to get wet in the wild adventure that awaits you.
With these attractions on Yas Island, you won't run out of fun, exciting, and relaxing ways to cool down this summer.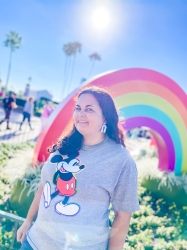 Latest posts by Krystal | Sunny Sweet Days
(see all)