The Top 3 Cities To Visit In The State Of Colorado
Colorado is a beautiful state. It's full of amazing landscapes and travel opportunities, not to mention some great cities! If you're looking for somewhere new to visit in the U.S., then Colorado might be just what you're looking for. In this article, we'll explore three cities worth visiting that are located in Colorado – Denver, Boulder, and Fort Collins.
Denver, CO
Visiting Denver is a must-do. With its historic downtown, great nightlife, and the best museums in Colorado, it's no wonder that Denver is one of America's favorite travel destinations. Visiting Denver has never been easier with an abundance of public transportation options including bus lines and train stations to get you around town as well as rental cars for those who want a little more flexibility.
Denver has an amazing art scene, with the Denver Art Museum as its centerpiece. The museum's collection is made up of over 100,000 pieces including everything from ancient Egyptian artifacts and American Indian paintings to 19th-century European oil paintings and contemporary photography. And it doesn't stop there. This major arts institution also boasts two sculpture gardens (one outdoor) that showcase major works by some of the world's most important artists. A visit to the DAM will make any culture lover feel like they're in heaven! You'll have plenty of time for exploration because tickets are valid for three days, so you can always come back another day if something else catches your eye first!
Outside at Chatfield Farms County Park lies one of the most popular attractions in Denver: The Butterfly Pavilion. This is a great place to explore and learn about many different species of butterfly, as well as spend time admiring their incredible beauty!
Downtown Denver has plenty more museums to offer including the Molly Brown House Museum which was once home to travel pioneer Mary Margaret Brown who gained notoriety following her survival on the Titanic and became known for her philanthropic efforts throughout Colorado. You can see where she spent much of her life after marrying mining tycoon J.J., while also exploring five other houses filled with fun facts from various periods in American history.
Later at night, there's a lot going on too. Whether it be catching a show at the Denver Center for Performing Arts (DCPA) or heading to a Rockies game, you'll find something entertaining and memorable. So, don't hesitate, but rather look for hotels in Denver so that you could have some good times there. Denver is an eclectic city with so much to offer that visitors will never run out of things to do!
Here's a list of things to visit while in Denver:
Denver Art Museum
Molly Brown House Museum
Butterfly Pavilion at Chatfield Farms County Park
The Galleria Shopping Mall in Glendale, CO
Boulder, CO
Boulder is an incredible city for a number of reasons, but one thing that stands out is how much outdoor space there is. There are over 300 miles or 500 kilometers of pathways, open spaces, and parks in the city with plenty to explore year-round. Consider going hiking up Boulder Canyon Trail (about a 12-mile hike) or bike through these scenic paths on your way to work as many locals do. Also, some say it is the happiest city in the United States.
One more perk? The food! This Colorado town has some truly fantastic restaurants from vegan eateries to gastro pubs serving creative dishes using fresh local ingredients. And if you're looking for something sweet try the award-winning ice cream at Sweet Cow Creamery or head into Pearl Street Mall where you'll find shops like Dean's Beans Roastery and Beau Jo's.
The Pearl Street Mall is a pedestrian mall lined with shops, restaurants, and galleries that spans four blocks of downtown Boulder. One highlight here? The weekly Farmers' Market every Thursday features farm-fresh produce from neighboring counties as well as food trucks selling everything from vegan delicacies to authentic Mexican fare.
Fort Collins, CO
Fort Collins is the third-largest city in Colorado. This place has a population of about 160,000 people and is known for being home to Colorado State University. The town offers a wide variety of restaurants, breweries, microbreweries, and wineries as well as plenty of recreational opportunities like biking or hiking trails.
The Arts District on Mountain Avenue offers art galleries where you can enjoy paintings by local artists that represent this area's artistic legacy while also exploring its history via historic buildings preserved from days gone by. This historical area is also the home to six museums and galleries, which include a new art museum as well as outdoor performing arts venues.
Colorado is a perfect place for those who are looking to get away from the hustle and bustle of city life. With our year-round sunshine, numerous outdoor activities, and abundant natural beauty. There's no shortage of things to do here in the Centennial State! Whether you want to explore rolling hills covered with green fields or take a hike through one of Colorado's national parks, we've got it all.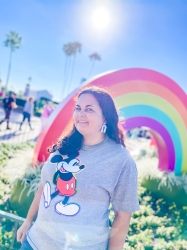 Latest posts by Krystal | Sunny Sweet Days
(see all)