Useful Tips On How To Find A Family Destination For Your Next Travel
Family trips are one of the most enjoyable and memorable experiences for any family. You'll not only have immense fun while visiting a new place with your family, but you'll also be able to bond with each other. However, with the rapid globalization and easier accessibility of plane tickets, it's very difficult to choose just one destination out of so many. This confusion is the sole reason most families don't even have a vacation at all, and those who do keep visiting the same places repeatedly.
To solve this problem, you need to keep a few things in mind that'll decide easier for you. We're going to discuss what all parameters should influence your choice of the destination so that you can focus more on the actual trip itself rather than just planning. So with no further delay, let's get to it and find out the destination where your family should be headed next.
1. Set a Budget
Planning is the secret ingredient behind every great trip, and the very first thing you should plan about is the money you're willing to spend. You need to decide on a budget for your trip so that all the further steps get simplified. If you're willing to spend a larger sum of money, than you can think about luxurious locations like Paris, Zurich, Los Angeles, and more, as these places are best experienced if your budget is a little on the higher side. It's also important to decide your budget beforehand so that you don't overspend. You can tailor your experience if you decide your budget beforehand as most tourist destinations offer experiences ranging from low cost to super luxurious.
2. Hot or Cold
Another thing that influences your family trip is the climate that you prefer. If your family wants some reprieve from the warm summers in your country, then it's a good idea to head out for the colder locations like Scandinavia, Switzerland, or anchorage with kids since they'll enjoy the change in weather. You definitely don't want to go to the Sahara desert in peak summer if what you're looking for is cold weather. You might want to visit a tropical location to be relieved of harsh winters. The temperature that you prefer will play an important role in eliminating almost half of the pop.
4. Overall Experience
Often, people focus on the place they want to visit and they totally forget about the things they want to do. You might be into different activities like camel safaris, skiing, skydiving, or even just simply chilling out. Know the overall experience you want so that you can choose your destination accordingly.
It's best to sit with your family and discuss the activities they enjoy and then decide the destination that offers those activities. Remember that it's important for every member of your family to enjoy the vacation if you want to create a truly memorable experience. It's no use going to a place where only some of you might be happy. If you end up going to a place that only you like, then it's likely that you'll be the only one having fun and this could create a lot of unnecessary discord in your family.
5. Check It Out
Before going to a place, you need to check it out so that you can make a more informed decision. Now you might think that it isn't possible to check out a destination without visiting it but that's where the internet comes in. You can check anything about a remote location from the comfort of your home and you should do that before heading out to your selected destination. Try to get some pictures from Pinterest and some online reviews by the people who've already visited the place. This will give you a pretty good idea about the beauty of that location and the things you can do there.
These are some of the most useful tips that you should keep in mind before you choose a destination for your family vacation. If you can keep these points in mind while arriving at a decision, then you'll be increasing your chances of success. A family vacation is supposed to be an experience that's enjoyed by everyone and it'll end up bringing your family closer if you do it right. So hold a lot of discussions before you finally decide to settle on one location because you'll be investing a considerable amount of time and money on your vacation.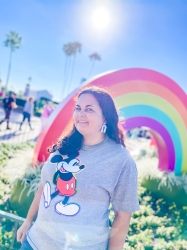 Latest posts by Krystal | Sunny Sweet Days
(see all)