5 Bridal Accessories That You Can't Forget
So, you've said yes to the dress and you're ready to call it a day when it comes to shopping. Hold your horses, though! You have way more shopping to get done yet!
You can always take a break from shopping and have a facial, but only when you've got these five amazing bridal accessories sorted for the big day and the run up towards it. There are quite a few bridal accessories that you need to consider, but you should put the five in this list at the top of your search for all your bridal bits!
Wedding Shoes: Wedding shoes are a big purchase and they're necessary. Not only do you want to ensure that you have the perfect shoes to match your colors and your dress, but you also want to make sure that they're the right height. From sky-high heels to comfortable flat sandals, your wedding shoe choices are going to depend on the type of wedding you're having. You will find that flats are always going to be better for beach weddings, so think clearly and try on all the styles – just for fun, of course!
Bridal Robes: You don't need to have it personalized if you prefer not to, but bridal robes are going to be an essential cover-up between getting on your wedding lingerie and putting on the dress. You need to shop around for what you feel will look the best, and you should consider that a bridal robe needs to be long enough to cover you up properly and short enough that you don't trip over it!
Hair Accessories: Hair up or down? Curled or straightened? With a veil or without? There are so many bridal hair inspirations aside from tiaras and hair clips. Hair accessories can make or break the look of your wedding dress, but the good news is that you can get your wedding hairdresser involved so you can trial wedding hairstyles with the accessories that you've picked.
Underwear: Quite possibly one of the most important accessories you could have, and not just because of the wedding night! You need comfort here, with the right support so that you can feel confident while also making your dress look fabulous. The last thing that you want is to have wedding underwear that is going to pinch or poke you throughout the day.
Jacket/Wrap: Outdoor wedding or not, you can choose to add a bridal jacket, shrug or wrap to enhance your dress in ways that you couldn't imagine. A faux fur stole or wrap is an excellent accessory for an outdoor wedding, especially in the winter. A jacket can be comfortable and prevent a chill, plus you can also get accessories that will complement your dress completely. Some brides choose a wrap or stole because they're getting married inside a church or house of worship and really want to observe some modicum of tradition. Either way, a wedding wrap looks beautiful!
Don't forget about your eyelashes! I have a lot of budget wedding ideas too.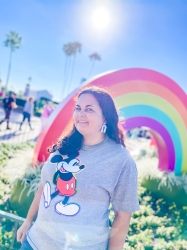 Latest posts by Krystal | Sunny Sweet Days
(see all)