Preparing for Eyelash Extensions
Eyelash extensions have become a popular way to update a look, add some glamour or add some flair for an upcoming event. These do require some additional care beyond traditional false lashes considering their longevity, so evaluate a few things as you prepare for your upcoming appointment.
Deciding Whether Lash Extensions Are for You
First you need to make sure that eyelash extensions are for you. If you wear glasses, you need to make sure that the extensions will fit comfortably underneath. Try on pairs from https://www.eyeglasses.com with your lashes to make sure the two things can work together.
Preparing for Your First Appointment
For your appointment, it is important to arrive a bit early and to come with a clean face with all makeup removed. As you begin, your stylist will discuss your desired look and the process with you. This can be a great opportunity to ask questions as you're walked through the process. While it is often very helpful to come to your appointment with an idea of your ideal outcome, your stylist will also be able to offer advice for your particular circumstance, based upon your natural lashes and professional opinions that may be helpful. Paris Lash Academy will be a good resource for you to learn more.
Application of Eyelash Extensions
The stylist will use eyelash extension kits to apply the individual lashes to your eyelashes with tweezers one by one with the adhesive. This process can take 90 minutes to 2 hours on average, and your eyes will be closed the entire time. While many do not experience any discomfort, if you experience any irritation, it is important to communicate that with your stylist as soon as possible. Consider bringing a soundtrack you've been thinking about, an audiobook that you've wanted to hear as a great way to pass the time or just take the time to relax from busy schedules.
Care for Your Eyelash Extensions
Follow up and care can often be an essential step in the beauty process and can be important to maintain your beautiful lashes. Once your appointment is complete, it is important not to expose your lashes to water or moisture for 24 hours, as this is the amount of time that it takes for the glue to fully set. The moisture can alter the glue and cause it to breakdown and result in the loss of lashes. Oil-based products which can often be contained in makeup or makeup removers can affect the longevity of the glue, as well. Your lash extensions are meant to endure and stay attached to your natural lashes, but a disruption in the glue or too much fuss can result in a shorter lifespan for your new look.
Eyelash extensions are a beautiful option for many but do require additional considerations. While this may offer a luxurious and beguiling new look, it is important to prepare and plan for aftercare appropriately to ensure its lifespan and long-term benefits. They are perfect for your wedding too, and don't' forget these wedding accessories!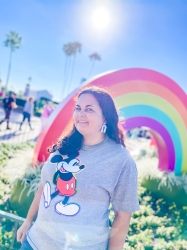 Latest posts by Krystal | Sunny Sweet Days
(see all)