Clean eating can be simple if you have a checklist to get started. When you find the products that can help you keep on track, it's easier to reach your goals. There are a few brands that I have discovered since I started eating better, and you're going to love to hear how you can enjoy a sweet treat without all the junk!
Clean Eating Checklist
Cut back. The easiest way to cut back is to get rid of carbs and added sugar in your diet. Eliminate processed food and anything that you know isn't healthy. Forget coffee overloaded with sugar, skip soda, stop unhealthy snacking, and mind your portion sizes.
Snack time can be better for you with options from Lärabar! I stopped by Sam's Club and picked up Lärabar Fruit and Nut Bars in an 18 count variety pack that includes Cashew Cookie, Apple Pie, and Peanut Butter Cookie. My favorite is peanut butter cookie! They are gluten free, dairy free, soy free, and vegan!

The best part is they have SIMPLE ingredients without anything unnecessary. The peanut butter cookie just has dates, peanuts, and salt. THAT'S IT. I love that I can have a guilt-free snack on the go that doesn't weigh me down. My local Sam's Club also had these new Lärabar Bites in Chocolate Macaroon which are SUCH a fun sweet treat!

Lightly dusted with coconut flour, these are my new go-to dessert for movie nights!
Add Better Options. Now that you have discovered LaraBar items, you can add these items into your diet alongside healthier fruits, vegetables, and proteins. Maybe you want to try some vegan egg substitutes? See here for more information.
Organize. Organization will help you eat clean without tempting you to try unhealthy options when you are busy. The right appliances are helpful (a grill pan or Foreman Grill, a juicer, a heavy-duty blender, and a food processor to start!), and clear out your pantry. Add healthy snacks like Larabar
Be consistent. Find a few of your favorite snacks and meals that are healthy, and create a meal plan with them regularly. Aim for consistency so that it is easier to track your nutrition.
Enjoy easy lunches and meals out. Use salad bars at your favorite grocery store if available for lunch on the go, or swap a burger for a smoothie. If you're dining out, share an entree with a friend and research the menu before arriving.
If you want to try clean eating, these steps will help you get started.
Clean Eating Tips
Have you tried Lärabars yet? What's your favorite flavor?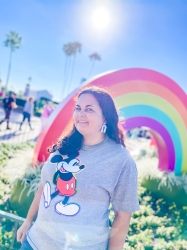 Latest posts by Krystal | Sunny Sweet Days
(see all)