5 Ways to Decorate With Outdoor Christmas Lights
Christmas is a time for family, friends, and of course, decorations! If you are looking for some ideas on how to decorate your home with outdoor Christmas lights, you have come to the right place. In this blog post, we will discuss five different ways that you can use outdoor Christmas lights to make your home look festive and beautiful. We hope you enjoy these ideas and have a Merry Christmas!
#1: Create a Glow Around Your Home
One of the easiest and most effective ways to use outdoor Christmas lights is to create a gorgeous, glowing backdrop for your home. You can hang strings of lights around windows and doorways to bring more light and cheer into your space. This is also a great way to make your home stand out on the street!
You may use either traditional style bulbs or LED lights to create this effect, depending on your preference. There are many different color and design options for both, so you can find something that fits the look of your home perfectly.
#2: Wrap Trees in Lights
Another great way to decorate with Christmas lights is by wrapping trees with them. You can use strings of lights to create a winter wonderland feel in your yard. You can also use large, colored bulbs to bring some cheer to the trees.
This is also a great way to make sure that your outdoor decorations are visible from the street. Wrapping trees with lights will draw people's attention, and they'll be able to see your decorations from far away.
#3: Light Up Your Walkway
Another fun way to use Christmas lights is to create a lit-up walkway for visitors. You can hang strings of lights along the sides of your walkway or wrap them around posts for a more decorative look. This will set the perfect festive mood for anyone who visits your home during the holidays.
This is also a practical way to light up walkways and driveways in case of icy or snowy weather. This will help keep visitors safe as they make their way onto your property.
If you are interested in taking your Outdoor Christmas Lights to the next level, Blingle! has a wide range of options for you to choose from. They have everything from traditional bulbs to more modern designs.
#4: Decorate Your Roof with Lights
If you have a two-story or higher home, you can use Christmas lights to decorate your roof. This is a great way to show off your decorations from the street. You can use strings of lights and large, colored bulbs to make your house look festive and cheerful.
Just be sure that all of the lights are secure, so they won't come loose in case of strong winds or other weather conditions. You should also check the wiring regularly and make sure that everything is safe before turning them on each night.
#5: Make a Focal Point with Lights
Finally, you can create a focal point in your yard by using Christmas lights. For example, you could hang strings of lights around an archway or gazebo to create a beautiful and festive display. You could also hang lights around a statue or other art piece for a unique look.
By creating a focal point in your yard, you can draw more attention to the decorations and make sure that everyone can see them from the street. This is an excellent way to make sure your outdoor Christmas lights are seen and appreciated by all who visit during the holiday season!
Whether you choose to wrap trees, light up your walkway, or create a stunning focal point with lights, we know that your outdoor space will be filled with cheer come Christmas time!
Go ahead and get creative with your outdoor Christmas light decorations this year! Have a Merry Christmas, and happy decorating!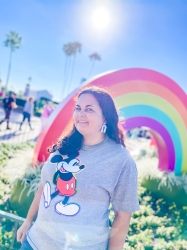 Latest posts by Krystal | Sunny Sweet Days
(see all)