3 Must-Have Holiday Clothing Items for the Season
It's easy for many people to fill December's calendar with a bunch of holiday to-do's. Christmas activities range from gift shopping for that special someone to family and workplace parties. Planning ahead can enable you to enjoy the season without all the stress and various time constraints. Here are three essential holiday clothing items for your closet that will allow you to be ready for whatever festive Christmas event you may experience.
Ugly Sweater
For decades, many people avoided wearing Christmas attire that caused too much attention. However, now many individuals accept the challenge and prefer choosing the ugliest Christmas sweater to wear to their next event. Holiday sweaters are now widely accepted and even promoted. They come in various colors, patterns and fabrics, making it easy for just about anyone to find one that matches their personality.
Christmas Formals
Workplace parties can either be casual or formal, depending on many different elements. However, many corporate parties often prefer more formal gatherings, and it's essential to have a social Christmas dress or suit on hand. Festive women's styles can be dark and sleek or patterned and playful. On the other hand, according to valextino.com, some of the best color combinations for men's formal wear include:
Black and white combinations
Navy blue and white combinations
Burgundy and black combinations
Dark green and white combinations
Festive Pajamas
Many people celebrate the season with matching Christmas pajamas. Now, finding family or couple PJs to fit the holidays is as easy as a click of your mouse. This family tradition exploded on social media, and now many companies everywhere are hopping on the bandwagon.
Don't let the stress of the holidays bring you down. With a few clothing staples in your closet, you'll be ready for whatever Christmas event you get an invite to, whether it's casual and playful or formal and fancy.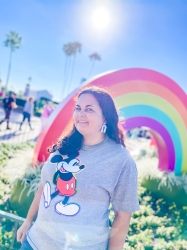 Latest posts by Krystal | Sunny Sweet Days
(see all)