Tips for Choosing an Artificial Tree: The Best Christmas Trees
For the passionate Christmas lover, decoration begins as soon as the bustle of Thanksgiving comes to a close. Many different elements come together to create a Christmas design scheme; however, the Christmas tree remains the fundamental centerpiece of the holiday. With the busy day to day activities, few people have the time to give the proper care and maintenance to a "real" Christmas tree. Artificial Christmas trees are becoming increasingly popular as a sophisticated and elegant replacement. With little to no maintenance, artificial trees remove one layer of stress from the holiday season. Balsam Hill trees come in a variety of shades and shapes available to suit any design needs of the decorator. Here are some tips for choosing an artificial tree.
Measurements are Key
No one wants to go through the process of picking the perfect tree to have to turn around because it doesn't fit in your living room. Before picking a tree, it is important to measure the area where you want the tree to go. If you want the tree to go all the way to the ceiling, make sure to leave six inches to give the best aesthetic appeal.
Pick a Tree That Looks Like the Real Deal
Artificial tree providers tend to offer a variety of needling options. Choosing your tree in person is the best way to make sure you are getting a tree that will leave your family doing a double take. Some artificial trees are designed to imitate the traditional pine while others have more volume. Shopping for a tree in the store is the best way to get the look you want. The Balsam Hill outlet offers a variety of trees to choose from.
Select a Shape Best Fit for Your Space
Artificial trees come in a variety of shapes that serve different aesthetic purposes. If you want to convince your family and friends that your tree is real, you can choose the more realistic and fuller shapes that look like the trees on Christmas farms. There are also slim and narrow choices that might look less realistic but fit a specific design aesthetic.
Choose a Tree with Pre-lit Lights
One of the greatest advantages of artificial trees is that you can buy them pre-lit. Stringing lights onto a tree is a huge hassle; pre-lit trees eliminate this time-consuming task. Artificial trees also tend to have a variety of options for light colors; decorators can choose from clear, traditional, and multicolored light schemes.
Flocked and Accented Trees
Flocked and accented trees can give your house a winter wonderland feel. These trees come with branches that look frosted with snow and crusted with a layer of glitter. You can choose from a variety of flocked trees; some have a more natural appearance while others are more extravagant. These trees can also come accented with berries, pinecones, and other festive elements.
Choose Your Color
Just as artificial trees come in a variety of shapes and sizes, they also come in a variety of hues. Artificial trees come in a variety of colors ranging from earth to vibrant green tones. Be sure to choose the color that best fits the look you are going for.
Christmas trees are the centerpieces of the holidays. A great way to escape the timely watering and cleaning that comes with a real tree is to opt for an artificial tree. Artificial trees are long lasting and have little to no maintenance. Artificial trees will fool family and friends; the realistic shapes and sizes will give your living room Christmas charm. Choose from a variety of shapes, shades, and sizes to fit your design scheme.
Christmas Tree Decor Ideas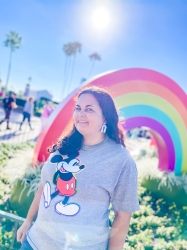 Latest posts by Krystal | Sunny Sweet Days
(see all)