How to Host a Trunk or Treat
A Trunk or Treat is the perfect alternative to traditional door-to-door trick or treating. Hosting your own trunk or treat is easy, and perfect for schools, churches, or clubs to offer to children during the Halloween season. There are several ways you can assure your trunk or treat is effective, and you can find those tips below. Look at how to host a trunk or treat that children and adults are sure to enjoy.
1. Set the date. It appears most trunk or treats are held on a day other than Halloween night. That way, children who still do traditional trick or treating can still attend. Choose the date for your trunk or treat and advertise it via social media, email, or community newsletters.
2. Find some "trunks." To have a trunk or treat you will need participants who can pass out candy from their trunks. Ask members of the organization the event is being held at to donate their time and some candy. For example, if held at a church, ask members of the congregation to come and be part of the event as candy passers. If members can't donate their trunk and pass out, they may wish to donate a bag of candy.
3. Decorate your trunks. One of the fun parts of a trunk or treat is decorating the trunks. Once propped open, you can decorate them with spider webs, inflatable décor, flashing lights, and other spooky sights and sounds. Some cars can play spooky music if they wish as well. Get into the spirit and make the cars decorate themselves.
4. Take safety precautions. On the night of the event, get all participating trucks into the lot and close the lot off. This way you don't need to worry about any other cars driving through which may be a hazard. Have each car take a parking space and be sure to have them park so their trunk is facing outward.
5. Let the fun begin. Once children arrive, have them start at one end of the lot and work their way through collecting candy. When done, you can have simple games for children to play, music to dance to, cookies to decorate, or other simple activities.
Offer beverages too so your little ones (and their parents!) who are going from trunk to trunk have something cool to drink!
A trunk or treat is nice because it is safe. It offers a shorter experience for those who may have young children, and it is a great way for a club or venue to bring the public in for some fun. Give these tips for hosting trunk or treat a try to see how fun and festive it can be.
The Best Trunk or Treat Themes
1. Spooky forest- This theme is perfect for anyone who loves all things creepy and crawly. Decorate your trunk with fake spider webs, plastic spiders, and green and black lights. Fill your trunk with spooky snacks like gummy worms, chocolate eyeballs, and candy corn.
2. Harry Potter- This is a great theme for Harry Potter fans of all ages. Decorate your trunk with Hogwarts banners, Quidditch equipment, and other Harry Potter-themed items. Fill your trunk with magical treats like Butterbeer fudge, Pumpkin Pasties, and Chocolate Frogs.
3. Superheroes- This is a perfect theme for kids and adults alike. Decorate your trunk with superhero logos, action figures, and other superhero-themed items. Fill your trunk with snacks like popcorn, pretzels, and candy bars.
4. Disney- This theme is perfect for anyone who loves all things Disney. Decorate your trunk with Mickey Mouse ears, Minnie Mouse bows, and other Disney-themed items. Fill your trunk with treats like Mickey Mouse pancakes, Donald Duck cookies, and Goofy candies.
5. Pirate- This theme is perfect for anyone who loves all things pirate. Decorate your trunk with pirate flags, treasure chests, and other pirate-themed items. Fill your trunk with treats like gold chocolate coins, pirate gummy bears, and chocolate treasure maps.
Have you ever hosted or attended a trunk or treat? I'd love to know your tips!
Halloween Party Inspiration:
Halloween Decor Guide
Download Shabby Chic Halloween Decor for creative inspiration for your home this fall season. These creative ideas are simple and easy for your busy holiday plans.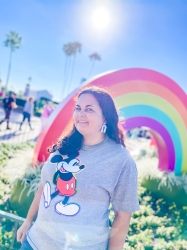 Latest posts by Krystal | Sunny Sweet Days
(see all)