How to Organize A Secret Santa Event At Work
Secret Santa events are nice to have interaction with others and share gifts that celebrate the holiday of Christmas with some anonymity and fun behind them. They're very common for coworkers or acquaintances since Secret Santa can mean that you don't have to know the person as well as when you're giving gifts traditionally and this type of giving can prevent someone from ending up without a present or feeling left out. But organizing an event like this can be difficult and intimidating, so some tips can be quite helpful. Here's some information on how to organize a Secret Santa event at work. 
Research 
If you know nothing about Secret Santa swaps and how you want to do this process, do some research first. Learn the general process and idea behind this event to at least understand what basics should be involved, then you can expand from that if you need or want to do so. 
Make Rules
Rules can help structure this event and make it easier for your coworkers to take part or understand. Rules can and should involve things like the deadline to sign up for the swap, a gift price limit, a deadline for purchasing gifts, and a date and time for the actual swap event itself. You can go further than this too if you need to or think of other rules that can help. 
Plan
Planning can involve when you want to do the gift exchange when you draw names, and if that will be involving everyone else, when to send reminders or notifications to people about the Secret Santa event, and so on. Planning helps make the process go smoother for everyone and reduce your stress from last-minute decisions.
Themes
To take this a step further in how fun or challenging the gift exchange may be, you can even consider or put in place a theme for the gifts as well. You can theme the gift-giving to be edible items, homemade, or funny gifts. You can choose anything as a theme that can help make the gifts more unique. 
Be Clear
When you tell everyone about the event and communicate with your workplace on the pieces involved, you need to be clear. Write up an email, flyer, or message that you can send to everyone to notify them of the information they need to know. This includes who can participate, any deadlines, themes, price limits, how the process will work, and more. 
Ask For Help
Struggling to figure everything out? Ask someone else for help. If you can't handle all the planning and set up on your own or want to make the most of the event, ask a trusted coworker to help you with the process. It can take some stress off your shoulders and make the process quicker too if you're on a time crunch. 
Don't Tell
Since you're the organizer, you know who is getting presents for who. Don't ruin the whole idea and surprise behind this idea by letting others in on the secret, even if they bug you a lot to do so. It's important to keep that secret so that the event can go the best and so everyone has a good time during it.
Whether you're thinking about organizing an event like this for your office or workspace to improve spirits during the holiday season or you already know you will or you were assigned to organize the event, this information can give you some tips and help in being able to do that easier and better. It's pretty overwhelming to figure out organizing Secret Santa events, especially if you have many people to plan it for or it's your first time doing so. But as long as you know what's important to do or think about during the process you will certainly be able to plan a great event for your workplace that can brighten everyone's holiday.
Easy Gift Ideas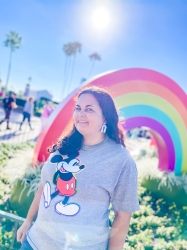 Latest posts by Krystal | Sunny Sweet Days
(see all)