Christmas Gifts To Help Your Dad Kick Back And Indulge A Little
When it comes to giving Christmas gifts to guys, we often fall down the same old rabbit hole of getting them something traditionally masculine and, more than not, practical. However, men like a little luxury just as much as anyone else. You're likely to make sure you treat your mom with indulgent gifts, why not do the same for dad, too?
Offer a little comfort
Guys like to get snug and comfy just as much as anyone else, especially in the morning. A good robe and a pair of slippers can be one of the little treasures in life that a man allows himself and you can help make it extra special by getting him some new morning wear. Even better, a monogrammed robe can make him feel like he's worth a little extra like the gift was specifically for him because, well, it was.
If you don't want to stress yourself looking for a luxury gift for your dad you can always check https://www.lapach.com.au/.
A drop of something special
When better than Christmas to enjoy a dram of something a little unique and perhaps a little pricier than they might usually go for? If your dad is, for instance, a collector of fine whiskeys or wines, then a stop at an online liquor store can help you find something he has never tried before. Of course, finding an old favorite is all well and good, but a lot of guys like to try broadening their horizons when it comes to the drink.
A great coffee maker
Asides from a little liquor, the taste sensation that most men would consider themselves a connoisseur of would be coffee. If your dad is a "coffee guy," then consider getting him one of the more convenient coffee makers out there. Those that don't require him to make a full pot to get his morning joe can be a great present for a guy who spends his time and effort picking those beans carefully.
Some good Cuban cigars.
Cigars are considered to be an excellent way of indulging and enjoying rest time. Types and tastes of cigars vary from light to strong, from creamy to spicy. There can always be found a matching type for any smoker. Real aficionados will be impressed by Partagas cigars with their deeply complex experience and the remarkable quality that distinguishes them from any other type of cigar. For milder smokers, there are El Rey del Mundo, Romeo y Julietta, and many other types.
A good pair of socks
Yes, really. What might seem to kids around the world like the ultimate boobie prize when it comes to Christmas presents suddenly becomes a lot more valuable and appreciated when we get older. If you get a really nice pair of socks for your dad or a nice set of socks, it's just a little way to keep him more comfortable throughout the year. Any working man is definitely going to appreciate comfy socks to protect his feet when he's up and about or wearing those brutal dress shoes.
Put some sounds on
If your dad likes his music, especially when he's working out or out and about, then a good pair of earbuds is going to make a world of difference to how he does it. They're extremely easy to pair with digital devices, nowadays, and don't come with any of the tangly wires that can make earphones so frustrating.
A spot of indulgence goes a long way. It tells your dad "relax, enjoy yourself, take care of yourself," and we all need to hear that. Hopefully, the examples above give you some inspiration that can help you make your dad's Christmas just a little more special.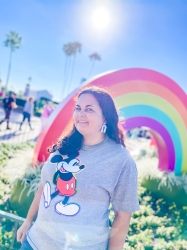 Latest posts by Krystal | Sunny Sweet Days
(see all)