Unique DIY Gift Ideas To Leave Your Boyfriend Speechless This Christmas
It can be stressful trying to find the perfect gift for your boyfriend. How do you capture the feelings you have for someone in a physical object? What do you buy for someone after you've spent eight Christmases together and have run out of obvious ideas? Many people in this situation turn to handcrafted gifts. Something made by hand is completely unique and demonstrates effort, time, and care. The following will explore some do-it-yourself gift ideas specifically for boyfriends.
Custom T-Shirt
Once you understand how easy it is to make custom t-shirts for your boyfriend, this will likely become a staple gift. Things like inside jokes, television show references, films, video games, political moments from history, his favourite characters, or his favourite page from his favourite comic book can all be put on a t-shirt. To make your own graphic tee, simply find a plan t-shirt (these are usually incredibly inexpensive at department stores) and design your image online. The sky is the limit; why not take a screen capture of his favourite movie scene? Or a movie poster?
Once you're pleased with the image, print it off using a printer that works with transfer paper. Something like a dual tray laser printer might be needed, especially if you've selected to cover the shirt in many smaller images. Then iron the image(s) onto the shirt and wrap it up nicely. While you're at it, why not make one for yourself as well?
Beer Brownies
Everyone loves getting homemade treats, especially around the holidays. Beer brownies are a spectacular baked good that is easy to make and delicious to devour because the bubbly beer brings a lightness to what is otherwise considered a dense dessert. You can also swap out the beer in this recipe for cold coffee if he's a caffeine aficionado. You can also decorate the mason jar or other container you present the brownies in for an extra touch of tenderness.
Bacon Infused Whisky
Here's another edible gift that is truly special. All you need is some bacon (about one pound), a simple unflavoured whisky (bourbon works well), and a cheesecloth.
Fill your frying pan with bacon and cook it.
Pour out the bacon grease into a bowl and cook the next batch.
Repeat until you've cooked all the bacon and have a nice big bowl of bacon grease.
Let the grease cool completely.
Mix the bourbon and bacon fat together and let it sit for at least four hours. You want to wait for the grease to have completely separated from the whisky.
Scrape the fat off the top and sift the whisky until there are no particles, using the cheesecloth for the final sift.
Bottle it.
You can also decorate the bottle to add an extra bit of love and care in to the gift. This makes a tasty, smoky whisky full of bacon flavour. Who could say no to that?
Homemade Advent Calendar
This gift takes a bit of thinking ahead as it needs to be ready for December first, but it is a lovely gesture of sweetness for your boyfriend to start each morning with. An advent calendar consists of 25 pockets, pouches, or boxes that each contain a small gift or treat. The idea is that he will get to open one each day until Christmas (you can label them if you want them opened in a certain order). Fill them with his favourite treats or tiny gifts you know he'll love, like trading cards or action figures.
Paint Dipped Mugs
Having a morning coffee or an afternoon tea is a staple for many people. Make this daily ritual more personal by paint dipping mugs. Not only is the look classy, but it's also a way to personalize your home together. It is worth noting, however, that most of the time, food-safe paints need a while to cure, so this gift needs to be planned well in advance (follow all instructions on the paint bottle). You also want to keep your eyes open for dishwasher-safe paint if your boyfriend uses a dishwashing machine at home. You can get really crafty with this one and try some marble dipping patterns if you want.
The above list should get you thinking about how you can lovingly craft gifts at home for your boyfriend. Something that is made at home with tenderness can leave someone feeling special and adored. Of course, no one knows him like you do, so if your gut is telling you to make something, in particular, go with that.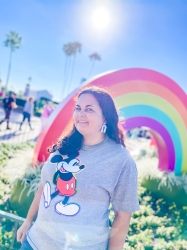 Latest posts by Krystal | Sunny Sweet Days
(see all)