Figuring Out What Your Loved Ones Really Want For Christmas
How easy do you find gift giving during the festive season? Sure, it's easy to get something for the dog, and it's very easy to tell others what you really want, but we all know it can be tricky to figure out what your loved ones actually want for Christmas.
They might not know themselves, or maybe they're just hard to figure out – or maybe they've already got everything and have no need for anything else!
And in moments like these, you've got to do a bit of detective work. So, here are some good ways to find out what your parents or partner really wants for Christmas.
Look Through Their Possessions
Before you do anything else, take a quick look now through your loved ones possessions, if you're able to. In doing so, you'll get a good overview of an idea about what they like, and you'll be able to find similar items, and/or replacement items for broken things that are already in their collection.
This is a good idea for those people who have a big collection of figurines, or video games, or even just a big book of stamps they're trying to fill out. If your loved one has a clearly defined interest like this, buying them something in that category is always going to be a winner!
Think About How Sentimental They Are
Is the person in question sentimental? Do they like to hang onto old tickets after events and stick them into a scrapbook? Maybe they like to keep all their birthday cards from years and years ago, simply because someone they love gave them to them? If either of these situations apply to the person you're trying to buy for, then you're going to want to go the sentimental route this Christmas.
And there are many ways you can do that. You can buy them a vintage toy they used to love when they were a kid, that you managed to scour from the Ebay shelves. If you like to knit or crochet, making them something to wear can take a lot of time and effort, but if you really love them, it'll be worth it! or you could invest in personalized Christmas books, to tell the tale of the relationship the two of you have, which could bring a happy tear to their eye on Christmas morning. The options are endless!
Ask for Their Opinion, Without Revealing Anything…
Finally, why not simply ask them, but in a little more of a sneaky way? Show them something you'd think they'd quite like, but tell them you're thinking of getting it for someone else, and ask if they think that's a good idea. This works on everyone, and if you really have no idea what to buy someone this Christmas, this comes in as a very effective last resort!
If you don't know what your loved one actually wants this Christmas, make gift giving less awkward with the tips above.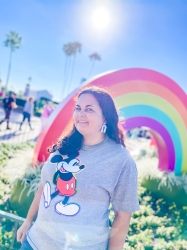 Latest posts by Krystal | Sunny Sweet Days
(see all)