Cute Christmas Gift Ideas
Shopping for someone who seemingly has it all can be a daunting task. What do you get the woman with everything? The key to finding a unique and special gift is by thinking outside of the box. Here are some unique and thoughtful gifts for the women in your life who have everything.
The Best Gifts For Your Favorite Person
Gift Cards to Her Favorite Restaurants or Stores: Let's face it, everyone loves going out to eat or shopping at their favorite stores. Gift cards are a great way to show someone you care but still give them the freedom to buy whatever they want. Plus, if you get creative, you can also make a themed gift basket full of items related to their favorite restaurants or stores.
Wild Cloud Earrings: Wild Cloud earrings are made from sustainably grown, regenerative bamboo. Their designs show love and appreciation for all the things that make our world and environment beautiful. The lightweight designs make packing the whole collection for your Holiday trips oh-so-easy.
Founded by a former architect and handcrafted in California, the brand perfectly blends ethical methods with modern, subtle designs. They're plastic-free and hypoallergenic, so even the most sensitive ears have no trouble with these fashionable pieces.
A Monthly Subscription Box: With subscription boxes all the rage these days, there are plenty available that cater specifically to women's interests. Whether she loves beauty products, jewelry, clothes, books or something else entirely—there's likely a subscription box that delivers monthly surprises tailored just for her. It's an excellent way of making sure she continues receiving gifts throughout the year!
BeAmbiance candles with inspirational quotes: These candles are so sweet AND scent-free candles that emit a sweet honey aroma. Since some people may be sensitive to scents, these could be a good option! They also ome gift-boxed, making gift-giving a cinch! You can view the entire collection at https://beambiance.com/beeswax-candles/. 
Personalized Photo Album: In this day and age of digital photography and social media galore we often forget about actual printed photos. Why not create a personalized photo album filled with pictures of special moments shared between her and her family members and friends? You can add captions or quotes underneath each picture that capture those special memories forever—a truly sentimental gift she will cherish for years to come!
Cute drinks to share: Looking to give something to your girlfriends? Try a fun party drink to share! These watermelon Moscato glass bottles are SO cute and delicious. Just in time for the upcoming holiday season, MYX Beverages presents the latest variety of fruit-infused wines: MYX Fusions Watermelon Moscato. This latest flavor is full of holiday fun and makes a delicious addition to your go-to lineup of refreshments.
Water bottles with a musical twist: Have an adventurous music fan on your list? You NEED these unique water bottles! Available in red, gray, or teal, the zak!play bottles come in two different styles based on how they prefer to drink their favorite beverages. The 18oz tumbler features a removeable lid and straw while the 17.5oz bottle has a screw-tight lid with an attached clip to make it easy to latch onto sports bags or backpacks. Both varieties are made from vacuum insulated stainless steel to help keep drinks cold for hours without condensation building up on the outside of the bottle.
What really sets the zak!play bottles apart, however, is the removeable Bluetooth® speaker that allows those special people on your gift list to play all their favorite tunes!
Looking for more ideas?
Trying to find the perfect Christmas gift for your wife, mom, sister, daughter, or friend can be a difficult task. What do you get for the woman who already has everything? The answer is simple: an experience! Experiences make great gifts and create lasting memories. Here are some ideas for experiences that will give you the perfect gift this holiday season.
Cooking Class: If your special someone loves to cook, why not give them a cooking class as a gift? You could take them on a virtual cooking class or purchase one of the many cooking classes offered at local restaurants or culinary institutes. This is a great way to learn new recipes and techniques while making delicious dishes together
Wine Tasting: A wine tasting experience is sure to please any oenophile in your life. If you're not sure where to start, check out local vineyards and wineries or search online for virtual wine tastings and pairing classes. Not only will they get to sample some delicious wines, but they'll also learn about different types of wines and their origins.
Spa Day: What better way to show someone you care than with a luxurious spa day? Whether it's at home or at a professional spa facility, this is sure to be an indulgent experience that she won't soon forget. From massages and facials to manicures and pedicures, there are plenty of pampering treatments available that will make her feel like royalty on her special day.
No matter what type of experience you choose for your special someone this holiday season, it's sure to be an unforgettable one! Experiences are great gifts because they are unique and memorable—and they don't take up any space in their closet! So if you're looking for something special this Christmas season, consider giving an experience instead of more stuff! It's guaranteed to bring joy this holiday season!
No matter what type of gift you choose for the woman who "has it all", show her how much you care by selecting something unique and personalized that reflects her individual personality or interests. Keep these ideas in mind when shopping this holiday season so you can find something truly special for your loved one! Happy Holidays!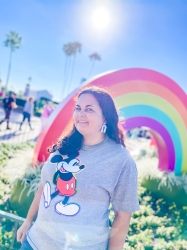 Latest posts by Krystal | Sunny Sweet Days
(see all)