5 Dollar Store Christmas Stocking Stuffer Themes
I never know what to put in someone's stocking. I think it is SO fun to have an endless giant sock of trinkets, but I get stuck sometimes. Will this be useful? Is this a cute idea? Luckily I've started thinking in terms of stocking themes. It's much easier to create a fun stocking when you stick to the theme. Consider creating one of these stockings using affordable items from your local dollar store. It's cost-efficient and easy!

Do you love to create holiday gifts that are not only fun but reflects the likes and hobbies of the person you are gifting them to? If so, then take a look at these five stocking themes you can create from dollar store materials that you can try. You can in fact create some fun themed holiday gifts without spending a lot of dough, and below you will find some fantastic examples. Take a look!
1. Princess. Fill a stocking with dress up jewelry, sparkle lip gloss, nail polish, a tiara, and one of the many magic wands that dollar stores carry. You can even add a hand mirror or some glitter. It is a stocking fit for a queen…or at least a princess!
2. Beauty. Fill a stocking with combs, brushes, hair spray, headbands, hair ribbons, barrettes, and other hair accessories that your local dollar store offers. These items are perfect for little ones who love to play salon and get themselves looking lovely. You might also find beauty related books, coloring books, and assorted faux hair extensions.
3. Sports. Fill a stocking with some sports themed stickers, coloring books, mini footballs, sports figurines, sweatbands, mini games, and other sports items that your dollar store offers. It is perfect for the kid who just can't get enough of all things sports related.
4. Artist. Fill a stocking with paint brushes, stickers, craft paper, paint, glue, markers, and crayons. They will love having all of the art supplies they need at their disposal and there is no telling what they might create. You can even include a picture frame to frame their work. Don't miss this article about seven Dollar Tree art supplies that are worth the cost (and a few that aren't!).
5. Cooking. Grab a mini cookbook, some cooking utensils, a dish towel, some spices, and other small cooking items your local dollar store offers. For the person who loves to whip stuff up in the kitchen, you will find how much they appreciate these gifts and will look forward to using them.
How fun are these? When you give these themed stockings a try, you can give your family and friends a unique and personal gift that reflects their likes. Give these ideas a try and see how easy they are to create and enjoy! Your recipients are sure to love them.
What do you always put in stockings for your friends and family members?
Need more inspiration? Create an epic stocking with this list of over fifty dollar store stocking stuffer ideas!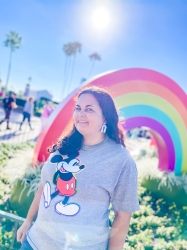 Latest posts by Krystal | Sunny Sweet Days
(see all)