Fantastic Gifts For The People That You Love In Your Life
There are plenty of gifts that you're going to have to purchase in your lifetime for the people that you love in your life. There are Christmases, birthdays, and a whole load of other occasions that you're going to need to buy gifts for. We know that a lot of people struggle with this because it can be tough buying gifts when it feels like the person that you are buying for has everything, but there are still things that everyone is going to love receiving. In this article, we're going to be taking a look at some of the things that you can consider purchasing for the people that you love in your life.
A New Piece Of Tech
The first thing that we're going to suggest is purchasing a new piece of tech for someone that you love. We know that this is a little bit of an expensive purchase, so you might want to ask someone to go in on it with you to make it more affordable. This could be something like a new smart watch, or if there is something out that you know they would love in the tech world. There are so many possibilities, and it's just a case of narrowing it down.
If you've got people in your family who love tech or friends who love tech, then you can always ask opinions on what the best thing to get it. It's more than likely that if your loved one you're buying for loves tech that you will have some kind of idea of what they want anyway as they will have likely mentioned it before. But again, it's an expensive thing to purchase, so if it's out of the budget there are always ways to make it cheaper.
Perfume Or Aftershave
Perfume or aftershave depending on who you are purchasing for is another great gift. You can never have too much of either, but you've just gotta make sure that you know the person well enough to pick a scent for them. If there is a perfume or aftershave that they wear all the time, you're best sticking to that one and purchasing them a new bottle. It's never a good idea to buy a new scent for someone who likes to keep things the same in this regard, as they probably won't ever use it, and you don't want to risk them not liking it.
If you don't know what kind of scents they like, then you can always get someone else to ask them to investigate. This will give you the inside information that you need, without you having to ask for it and raise suspicion or give them a hint at what you're getting them.
Jewelry
If you're buying for someone who loves jewelry then this is a fantastic gift. You just need to make sure that you know if there are any kinds of jewelry that they don't like and any that they absolutely love. For example, some people love gold jewelry where others absolutely despise it, so you've got to make sure that it's working with the taste of the person. Try to keep in mind that you are not supposed to be buying things that you like, but things that you think they will like.
There are plenty of places for you to purchase jewelry as long as you know where to look. You will find a number of shops offline if you have the time to go and look in them, or if you want to see the pieces in real life before you make a purchase. As well as this, you can look at one of the many stores online such as https://www.wholesalesparkle.com/ if you want to buy online. It's not going to be too hard to find a piece to match every style, so it's just a case of making sure that you're putting the effort into the search.
Something They Want But Won't Buy Themselves
There are a lot of things that people will say they like but won't purchase for themselves as it doesn't fit into their everyday budget. In order to purchase something like this you need to know the person really well, and pay attention when they are speaking. Most people won't come right out and say 'I want this but I can't afford it', so you've got to listen for the little cues such as 'I don't have the money right now', or 'I'll come back for it another time'. Usually when people say these things, they're not going to go back but they don't want people to know that. As such, if you can pick up on some of these items, they would make a perfect gift.
A Trip Away
The final thing that we're going to say is that you could organize a trip away if you have the funds for this. It could be a break away locally, or it could be somewhere completely different. If you're going to be going with them, make sure that it's somewhere that you will both enjoy. Or, if you know that they want to go traveling solo, then get them a solo trip. There are so many possibilities available to you, so it's just a case of shopping around and looking for the best deals available.
Keep in mind that there are certain days of the week in which it's cheaper to travel, and there are certain months where this is the case as well.
We hope that you have found this article helpful, and now see some of the fantastic gifts for the people that you love in your life. It's important for you to take the time to get this right so that you can be sure everyone loves the gift that you end up purchasing for them. We wish you the very best of luck, and hope that you end up with the perfect gifts for those in your life.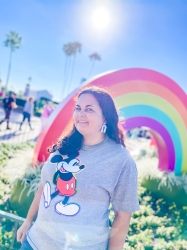 Latest posts by Krystal | Sunny Sweet Days
(see all)