Random Acts of Kindness Printable
Thank you PayPal for sponsoring this post. Visit PayPal to give the gift people really want this season: money!
I took my son to the toy store this week. I don't think he quite grasped the reason we were there initially. We weren't there for him to pick out stuff for his Christmas list and we weren't there to find something for his new friend across the street. In fact, he will probably never meet the kids that these presents were for.
I explained that all the toys we were buying that day were going to little boys and girls who aren't quite as lucky as we are. One of the outlets that I write for was having their annual donation drive for Toys for Tots at one of our local breweries the next day. I figured it was an ideal situation to teach our son the true spirit of the holiday season: Finding joy in making other's lives a little brighter.
As we wandered down the aisles there was a little bit of confusion, and, to be honest, more than a little disappointment as I had to gently remind him that he wasn't picking out toys for under our tree. The idea that the season is meant for giving is a concept that is tough to teach kids. Five-year-olds don't necessarily grasp poverty and privilege, misfortune and compassion. It was unheard of that there are kids who will wake up on Christmas morning with little to nothing to unwrap under the their trees. "You get to be those kids' Santa Claus," I told him. I think that's when it clicked.
The next day, I let him unload our big bag of gifts into the bins at the toy drive. He hesitated with the last toy in the bag — a Hulkbuster action figure, one of his favorites. When it was done we played games and listened to live music. He got his picture taken with the unofficial mascots from our local hockey team, who just so looks like his favorite spider-themed superhero. We filled a box truck with all the donations, which included everything from footballs to bicycles. It was a good day in a season of giving, made possible by a lot of little random acts of kindness.
Holiday gifts are exceptional, but many of them are just going to be re-gifted or hidden in the back of a closet. Yet even though we're all thinking it, it can be a little awkward asking for money as a gift so you can buy that bag you really want. The good news: You are not alone! PayPal's 2017 Holiday Money Habits study found that money is the most-wanted gift for the second year in a row, and 52% of Americans wish they could ask for cash instead of traditional holiday presents this year.
So, if you're in need of a last-minute gift or simply just don't know what to get all of the people on your list, seize the season with PayPal's free P2P holiday greetings so people can get what they really want this year: MONEY.
Of course, there is no wrong way to give this season so download this printable to help organize your thoughts for all the good things you want to do for others. After all, you can never have enough of the giving spirit.
Christmas Gift Inspiration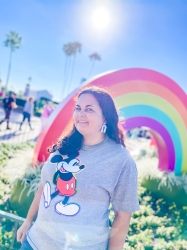 Latest posts by Krystal | Sunny Sweet Days
(see all)