How to Create a Cleaning Schedule
As a busy work-at-home mom with an energetic toddler, I know how stressful it can be to throw housework in the mix. Some days it's hard to keep organized enough to get dinner on the table on time, let alone keep the whole house clean. Because of the constant state of disarray that my house is in, and the fact that I seriously cannot remember anything anymore, I created a cleaning checklist to stay focused.
You can also find more inspiration for cleaning and get more info!

Since I need to write everything down or it gets forgotten, I whipped up this PDF to have in my central command center alongside my planner. I wanted it to be cute and functional, but I also needed it to hold an entire week's worth of chores.
To keep on schedule and to create a plan that was not overwhelming, I divided my cleaning tasks into two categories: everyday chores and weekly chores. When it comes down to it, my schedule looks a little like this:
Every day:
When I get up in the morning, I wipe the kitchen counters, load and start the dishwasher. I use Cascade because it saves me the step of prewashing the dishes, which I love because it gives me more time to spend with my son!

Cascade Platinum is specifically designed to work best when food is left ON dishes. Why? Because the enzymes in Cascade Platinum are designed to attach themselves to food particles, breaking them down so that they can be easily washed away – even 24-hour stuck-on food! No food means the enzymes have nothing to latch on to. Because of Cascade's tough cleaning power, I only use their products on my dishes.

I'm not the kind of person who does dishes before bed, so I make sure I do them early in the morning. If the dishes don't get done daily, it sets off a chain reaction! With a full sink, my counters somehow become a dumping ground for more dirty dishes. It's a terrible cycle, so I have to do dishes every morning. Though, it doesn't feel like "work" with Cascade. I am so glad I can just throw all my dishes (including my pots and pans!) into the dishwasher and let it go. It's always a sparkling clean load time after time.

Keep reading to learn more about my weekly cleaning schedule.
After I get the dishes going, there are four other main tasks I do each morning:
Load the laundry and start the washer. Usually I get around to switching the clothes to the dryer sometime in the afternoon and fold the laundry in the evening while I catch up on Hulu.
Pick up any toys left around
Sort the mail and throw away the trash immediately. This part is key so I can avoid clutter later on in the week!
Wipe dining room table and minimize toddler mess
Weekly Chores are "bigger" cleaning items which I do once a week, and try to stick to these days so I feel organized and on task. Doing one big chore per day ensures that I will actually do each chore, instead of letting it pile up until the end of the week and then feeling overwhelmed.
Monday: Mop the kitchen and dining room
Tuesday: Bedrooms vacuum and de-clutter
Wednesday: Clean both bathrooms
Thursday: Clean living room: vacuum, dust and polish, straighten bookshelves and de-clutter
Friday: Clean fridge and wipe cabinet fronts. Scrub clean sink and stove if needed. Wipe out microwave.
Saturday: Sweep the porch, spray down if needed. Clean the dog area.
Sunday: Meal Plan for the week ahead!
I created this cleaning checklist to help you come up with a manageable goal for keeping your home organized. I'm going to stick to my schedule every day, and I hope you do!
To download, click the links below. There is a blank checklist and one that is already filled out with my cleaning routine.
It may seem like a lot, but once you get into the routine of having a cleaning schedule it is much easier to do! Having a cleaning schedule helps keep me on task both at home and with my work. And, being organized makes me a happier and less stressed out person!
Cleaning Printables
Do you have a cleaning schedule? Feel free to take my free printable cleaning schedule and use it for yourself. I hope you find it helpful!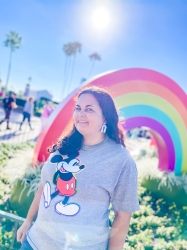 Latest posts by Krystal | Sunny Sweet Days
(see all)