Organize Your Life (For Just a Few Bucks!)
Can scouring the dollar section at Target or Michael's actually help you become a better version of yourself? You bet it can! With the help of Dollar Tree (or your favorite bargain bin), you can plan your goals and achieve your dreams for the New Year easily and inexpensively. Not sure where to begin? Take a look below at how to create a new you with the help of Dollar Tree, so you can make this year your best year yet.
Dollar Tree Organizational Items
1. Craft a vision board. Buy a piece of poster board, some colorful markers, scissors, and glue. Your vision board should include "visions" of all the things/goals/dreams you have for yourself. You can either sketch them, or use your scissors and glue to cut images from magazines and paste them. Write inspiring words on the board, and keep it in a prominent place where it can serve as a daily reminder. This is one of my favorite activities to do yearly…or even more often! You can learn how I set up a goals board or a vision board, and find out just what to do with all those magazines after you make one!
2. Keep a gratitude journal. Buy a journal for $1 and some colorful pens. Take time each day to jot in your gratitude journal what you are thankful or grateful for. Anytime you are feeling beat up or life has you down, refer to your journal and all you have to be thankful for. Add some stickers for extra fun and color if you wish.
3. Display words of inspiration. Grab a window marker from Dollar Tree (the ones that wipe clean) and write a weekly word on your mirror to inspire you. Words can include: brave, courage, energy, forgiveness, etc. Focus on that word for the week and use the marker to create the daily reminder. You can even make your own calligraphy prints using my tutorial!
4. Try some inspirational books. Check out the book selection at your local Dollar Tree. You may find inspirational books, poetry, or other texts that help you achieve your goals for the year. These types of books are always worth keeping on hand and enjoying when you need a pick me up. Don't forget a fun bookmark while you are there.
5. Don't forget the water bottle. One of the best ways to take care of ourselves is to drink more water. Buy a few new water bottles from your local Dollar Tree so you always have a cool drink on hand and are sure to get those 8 glasses a day.
6. Start planning. Now is the time to get your life organized. You don't need anything fancy to do this. Invest in a Dollar Tree planner, calendar, or purse planner to help keep dates straight! You will never be late for an appointment again. My favorite planners are Erin Condren, The Happy Planner, Whitney English, and the Passion Planner!
7. Face the mirror. Finally, invest in a small face mirror from your local Dollar Tree. Whenever you need some reassurance, be there for yourself! Remember who you are taking care of, whose goals you are after, and who can help you achieve your goals…YOU!
Did you ever think you could get motivated for just a few dollars? Give these tips and ideas a try and see what a difference they can make!
What goals are you working on this year?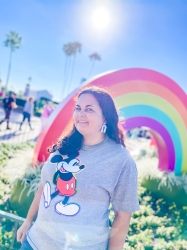 Latest posts by Krystal | Sunny Sweet Days
(see all)