Free (Or Almost Free) Lounge Upgrades
Imagine being able to make your living room look incredible for no money down. Sounds impossible, right? Well, not so fast. It turns out that you actually transform the appearance of the room with relatively simple changes. 
But what, you might ask? Check out the following ideas:
Clear Out The Clutter
If you permanently live in a cluttered environment, you'll be amazed at how much difference a simple decluttering session can make. Everything looks super clean and smooth once you clear it away.

Add Some Greenery
Next, go out into your garden and have a look for some healthy-looking plants you could pot and bring inside. Naturally, you'll need to be careful which species you choose – most won't thrive indoors.
If pot plants aren't an option, you could always snip some in-season flowers and put them in a vase next to your lounge chairs.
Switch Out Old Artwork For New
You don't have to spend a fortune to get good art. In fact, you hardly have to spend anything at all. Changing the artwork on your walls can help give your home a fresh feel, instantly getting rid of any outdated look that might have prevailed before.
Roll Out A Rug
If you have a rug in your attic, bring it downstairs and try it out in your living room. Rugs feel great underfoot and many feature beautiful patterns, adding interest to the room.
You can also try layering rugs, one on top of another, for added texture. This works particularly well in loughes with a coffee table in the middle and sofas around the edge.
Change Your Paint Job
Changing your paint job isn't free – but if you do it yourself, it's incredibly cheap. Just go to the local hardware store and pick up a fresh shade of paint and try something new. Pastel colors work exceptionally well in lounges.
Slipcover The Seating
If you don't like the way your existing seating looks, you can always slipcover it to make it more attractive. Again, this option isn't entirely free, but it is a heck of a lot cheaper than replacing a sofa outright. You can pick up slipcovers for as little as $30.
Add Some Throw Pillows
If you have some throw pillows knocking around in storage, you can also use these as a cheap way to spruce up your lounge. Moreover, if you already have throw pillows that you don't like, you can simply unzip the covers and replace them with new ones.
Upcycle An Old Table
So long as you already have the tools you need, upcycling an old table is a wonderfully inexpensive home improvement. What's more, it's a fun project too. You could repaint a table, make it look deliberately distressed and even embed it with LED lights if you know what you're doing.
Rethink Your Bookshelves
Do your bookshelves look like they need a little love? Rearranging and reorganizing them is a great way to improve the look of your living room at no extra cost.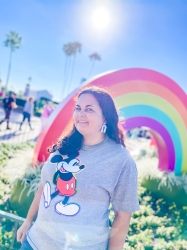 Latest posts by Krystal | Sunny Sweet Days
(see all)