Types and design ideas of interior doors
Glass interior doors: types and design ideas
Interior glass doors are often the finishing touches that provide a certain balance in the room, visually change its geometry and play with the space. Interior doors with glass panels are now in demand, because they look unusual and give a feeling of a large space and freedom of movement. There are different types of interior door with glass panels, which should be discussed in more detail.
Types of interior doors with glass
Interior doors with glass or mirror surface – it's an elegant decoration. Many people think that glass is fragile, unreliable material, but manufacturers solved this problem a long time ago, and glass interior structures made of ordinary glass can not be found on sale.
As regards the main types of interior glass doors, here they are:
model of tempered glass – talking about the strength characteristics of the mentioned product, it is 5-6 times higher than ordinary, because this material is affected by high temperatures. If the glass panel breaks, it splits into small, non-sharp pieces;
Reinforced glass – no need to doubt about the resistance, because the products are additionally reinforced with a metal mesh. Even if the glass is subjected to a hard blow, it will crack but not smash, which ensures the safety of people nearby;
triplex – glass is placed between two layers of film, which is melted or filled with resin. The resulting glass is heavy, but incredibly reliable; you can even find bulletproof models.
Glass panels can decorate in different ways. It all depends on the styles, size of the room and the design.The most popular variant is considered to be sandblasting, when a thin layer of sand under pressure is applied to the surface. There can also be a chemical processing: the surface is pleasant to the touch with voluminous patterns.
Interior doors with clear glass
Interior products with transparent glass can give the atmosphere impeccable style and luster, visually increase the area and natural light. Transparent glass transmits light, so the problem of lack of natural light is solved by itself.
Interior doors with frosted glass
If you decide what type of glass for interior doors to choose, you must first decide in what room you want to install them. These are exactly the rooms where confidentiality must be respected..
Frosted glass smoothes, blurs the contours of objects and people in the room. Thanks to their excellent transmittance, the products, even when closed, let in light into the room. The specific surface structure of frosted glass has the ability to scatter the direct rays of the sun, softening them and forming a pleasant light.
Interior doors with paneled glass
In case of correct installation of a structure made of durable glass, the probability of its breakdown is minimal, and therefore there can be no injuries and cuts. The glass panel is not affected by the sun, heat and moisture, corrosion, and unlike counterparts made of wood will not dry out over time.
Interior doors with sliding glass
If you prefer sliding models, their advantages are:
ergonomic design of a large-sized aperture;
solving the problem of lack of room;
ensuring the safety of the residents of the house;
space zoning;
The variability of sliding product designs helps to solve a wide range of issues in the arrangement of the interior. There are cascade variations, cassette, parallel-sliding, like "accordion".
Barn doors with glass
They are easy to clean, wipe the dust off. This model will be a great alternative to a deaf door, will add coziness and light, and decorate the room. You can pick up the original inlay in the form of a picture, fusing or stained glass, use frosted or transparent glass. Inlays of light glass visually expand the room.
Sliding barn doors with glass
If you need to decorate a spacious or small room in an interesting way, to bring a dose of creativity into an ordinary design, you should pay attention to the coupe model. Designs of glass doors amaze by their originality, the ability to easily solve complex issues in the organization of interior space.
French doors with glass
Usually they are installed on the balcony, where they are arranged in the full width of the exit. There is no traditional window aperture in their design. They consist of fully glazed frames and look like a huge full-wall window. French doors are very unusual, have a stylish design, create a visual link between the room and the balcony, give a lot of sunlight, which passes through the glass, and opens the air.
Possible sizes of interior glass doors
Sizes of interior glass doors бare standardized, corresponding to State Standards in size, and non-standard. The thickness of the frame and the glass panel thickness varies depending on the door block, material and construction. The width of typical constructions with one flap – from 600 mm to 900 mm. Usually buyers are guided by the place of installation. The widest models are chosen for bedrooms, medium-width models for kitchens and narrow models for bathrooms. The height of the aperture according to the standard is always the same – 2100 mm including the frame.
Design ideas with glass interior doors
Organizing a glass interior is very easy. The options for decorating in different styles:
Classic – models in the form of imitation of a window with white frame, glass panel in a calm beige, white, light-brown colors.
High-tech – modern plastic and metal structures with horizontal, vertical grooved or frosted glass strips
Minimalism – structures with transparent glass without drawings, having a regular geometric shape.
There are many ways to decorate glass panels. There are stained glass and Murano glass inserts, laser engraving, stickers, and painting with acrylic paints. You can choose the optimal design of wooden doors with glass, suitable for the specifics of your room.
Experienced designers say that no other material used in the manufacture of described products can give such an expanse of decoration, as glass.
Final words
As you can see, there are many design ideas of glass doors. They are often installed in homes, apartments, cottages and offices, they look great, they add a new feeling to the room. You can choose any type of construction and enjoy its view at home or at work. If you install the product in a room with no windows, the light from other rooms can easily penetrate into it as well.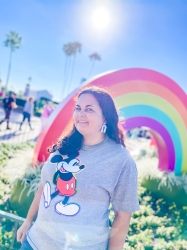 Latest posts by Krystal | Sunny Sweet Days
(see all)