5 Tips to Save Money on Groceries
I shopped savvy using Walmart Saving Catcher, as part of a sponsored post for Crowdtap #WMTSavingsCatcher.
Ya gotta eat. Food is one of the biggest expenditures in our household, and mainly because I'm quite lazy when it comes to couponing. I try to think ahead and make a list, but I sometimes get trapped in the 5pm grocery store rush where I scoop up a convenience rotisserie chicken and pre-made mashed potatoes. It happens. We all can't be masters of the grocery store game or have a coupon for every product we need. To give yourself grace and skip hours of list-making and coupon clipping, here are five simple tips to save money at the grocery store. You might be surprised as some of these!

1. Limit shopping trips. Make a plan to shop at your favorite store once a week at most. If you can swing bi-weekly or even monthly, you're amazing! I know that I can shop my pantry throughout the month to find hidden food to make things last between trips. I also know that if I shop too much during the week, that I end up spending unnecessarily on convenience items or packaged food. Those are things we shouldn't be eating anyway, and they can cost too much.
2. Shop at one store. If you shop at one store, you'll develop a loyalty to their products and know their sales. You will just "know" when a pantry item is at a rock-bottom price and when to stock up. You won't miss the sales on the meats or the "last call" bakery items, because you will be there already. By shopping at one store, you skip unnecessary trips to get other items at other places. You save time which is valuable, and you also save gas. Instead of carting around different purchases from every store on your list, you have made the commitment to shop at ONE place. I'd call that a win! My one store? Walmart®.
3. Use Savings Catcher. Since I commit to shopping at Walmart, I know that I won't have to run around to other stores to scope out the savings. Why? Well, Walmart® Savings Catcher does all the work for me.

You don't need to make more than one trip. Savings Catcher will find the deals on the products you purchased in your area, and you will earn the cash back!

Download the Walmart® app to your phone to start saving. You can submit your receipts and wait to see what you will earn back.

I always save my receipts for my records and use a variety of cash back smartphone apps, but Savings Catcher is SO simple. I never have a problem scanning the QR code, and it sends me an email when the price comparison is done. It takes about two days to get your results, but it's worth it!

Every customer will be different, but there were 89 competitors found for my last receipt. I loaded up on party supplies, snacks, and other items like coffee, soda, and cookies. If I average $1 a week cash back (and possibly more depending on how much I buy!), that's a free grocery trip a year. And, bonus, if you sign up for Bluebird by American Express…you can redeem it for double cash back. Log in to Walmart® Savings Catcher and click "Redeem to Bluebird" on your Savings Dashboard. We'll double your Reward Dollars and turn them into Walmart® Buck$, which are separate funds on your Bluebird® Account that can only be spent at Walmart or Walmart.com.
4. Have a separate account for small purchases to stay on track. Or, transfer everything to a "do not touch" account! I am definitely signing up for Bluebird to have a separate account for my grocery bill and little things I buy. It will be my "family fund" separate from my business account. I know that I will be less likely to spend money if I don't have it available for my use.
5. Subscribe to your favorite store's emails. I love my weekly reminders of sales and ads. It helps me focus. If it's not on sale this week, I don't buy it. End of story.
What's your best money saving tip for groceries?
—


Need more money saving inspiration?
Read my tips for how to save money while you're on the go!
[amazon-related-products keywords="grocery tote bags"]
[amazon-related-products keywords="budgeting tips"]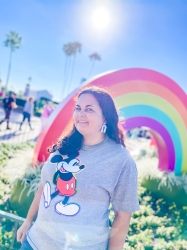 Latest posts by Krystal | Sunny Sweet Days
(see all)