7 Ways to Save Money on Easter Baskets
Have you seen those fancy pre-assembled Easter baskets at the store? You know the ones with the not very budget-friendly price? If so, you might be wondering how to get the same look for less. While my son is just two, this is the first year we are actually doing official Easter baskets! Last year we celebrated with family, but we skipped egg dying and baskets. This year, we are working on a few creative ideas using the tips below to do a special "first" Easter for our son.
If you want to give your children an Easter basket they will always remember but want to do it on a budget, take a look at these money saving tips below. You will find seven ways to save money on Easter baskets and give the Easter gifts you want to give for less.

1. Reuse your baskets. One great way to save is to reuse the same baskets from year to year. When done with your baskets each year, wrap them in plastic and store them away safely. This way, you don't need to buy a new one year after year. If you want personalized baskets, try making one yourself. Use a colorful tote from Dollar Tree and their peel and stick letters to personalize a piece for your child. I know that I also find baskets throughout the year for a $1 at Target or Walmart, so you can definitely make your own using a cheaper basket elsewhere!
2. Use Dollar Tree fillers. Head to Dollar Tree for special treats such as candy, small toys, socks, bubbles, chalk and more. For pre-teens you can even grab lip gloss, hair accessories, nail polish and other health and beauty items. This is a great way to fill the baskets without spending a lot of dough. I have a post this weekend about Easter basket add ins that you won't want to miss!
3. Forget the grass. Easter grass looks nice, but it is an extra cost that really isn't necessary. My dogs also accidentally eat it! So, we are definitely skipping this! If you want to use it for decor, try to save it from year to year in a plastic bag. Or, you could use colorful paper as a filler instead. You can also use any leftover scrap paper just shred it and place it in the basket.
4. Try some inexpensive yet healthy snacks. Add some healthy snacks such as apples, bananas, granola bars, or cereal bars. You can buy these items in bulk for less than a few bucks and they add healthy substance to the baskets.
5. Don't forget the art supplies. You can find art supplies for less than a buck at most craft and retail stores. Add some crayons, glue, pom poms, craft sticks, or other crafting items to the child's basket. These items will offer them inspiration for hours. Need ideas? Read my post about what art supplies to buy at the dollar store that are worth the buck! You can also make these watercolor Easter eggs as a simple budget-friendly craft.
6. Include some experience coupons. Add some homemade coupons that offer your child an experience instead of "stuff." These coupons can be for a trip to the park, a picnic, a special story time, etc. These are a truly personal gift that kids will love and that won't cost you a dime. Just make sure to follow through on your promises, because kids remember everything!
7. Be practical. Find ways to include items your child needs. This can be as simple as school supplies, socks, and toothbrushes. This way they are getting a basket but it is filled with items that were on your much-needed list as well.
Give these tips a try and you can build a beautiful Easter basket for less.
How do you save money during the holidays?
Want more Easter tips? Fill an Easter basket for less than $10!

Read my latest post on Easter Basket Essentials that cost just a dollar.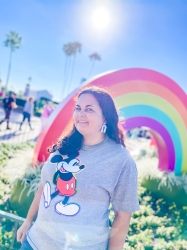 Latest posts by Krystal | Sunny Sweet Days
(see all)