I think I spend the bulk of my budget in the grocery store. I always seem to "forget" something and have to head back or the busy work week consumes me, and I need to grab something to go to save time. I'm working on establishing new routines so that this doesn't become a habit, but I am grateful for the available technology and the new options that my local Target has! I've been using smartphone apps, like Jingit, and easy snacks from Hillshire Farms to save money and stay full on the go!
How to Save Money on Snacks
1. Use smartphone apps to save money. I never have time to clip coupons, and I'm so grateful that I don't have to anymore. With the creation of smartphone apps like Jingit, I can save money on the go. It also helps me find the best products while I'm out and about since I can use the app to see what's on sale, and how I can earn cash back. Jingit is an app where you can scan your receipts to earn cash back. You use the app to see what offers are available, you reserve which ones you want to redeem, and after you purchase these items, you can scan your receipt to get your cash back.

You can earn cash with all your favorite brands when you download and shop with the Jingit app from your phone. There are many ways to save including grocery essentials where you can earn cash on your basics like milk, bread, and butter. There are also home products like paper towels, dish soap, and more. There are new offers each week, and it's easy to shop with Jingit at Target and earn cash. It's easy to use, and it's part of my weekly grocery shopping routine now.
Cash Back Offers

2. Buy protein packed snacks to stay full longer. If you're behind a desk all day or feel sluggish in the afternoon, try snacks with protein. Not only will this help you from snacking too much, this can help you save money on vending machine snacks! Skip the convenience products from a machine or corner store, and stock up on Hillshire Snacking Small Plates or Hillshire Chicken Bites. They are the perfect high-protein snacking option when you are on the go or buried under paperwork at your desk. I found Hillshire products at my local Super Target in the deli meat area. There were so many options that I couldn't just choose one! The peppered salami was delicious and came with cheese and toasted rounds.

The mango habanero sauce that came with the grilled chicken bites is a new favorite, and these products are gluten free.
3. Create a simple meal plan. You knew this was coming, right? The best way to save money on your groceries is to go in with a PLAN. Create a weekly meal plan and take inventory of what you already have in your pantry. Create a shopping list, use Jingit to see what is available for cash back, and get to work. Try shopping only once a week so you don't buy things you don't need. It's also SO important to use a weekly meal plan printable or checklist to stay focused. If you still need one, try using mine!

Print out this 8 x 10 PNG file and hang it on your refrigerator. Or, better yet, laminate it so you can use dry erase markers on it each week.
Once you start organizing your weeks and your snacks, you're able to see just how easy it can be to shop and save money. No more unnecessary items! It also can help you get creative in the kitchen since you're using more of the food products you have and buying other items to experiment with.

A simple spinach salad gets a spicy kick with Hillshire Chicken Bites. Prepare a salad bowl with spinach, diced tomatoes and olives, grilled chicken bites from Hillshire, and toss to coat with the mango habanero sauce. It's a refreshing lunch on its own or you can use it as a snack throughout the day! The sauce is so flavorful, and the chicken is easy to heat up if you so desire. It's an easy way to help you fill out your meal plan for the week!
Snacks don't have to eat up your weekly budget if you plan ahead. Use the Jingit app to earn cash back on your purchases and snack smart. Protein-packed snacks will keep you fuller throughout the day, and a weekly meal plan can keep you on track.
How do you save money on snacks?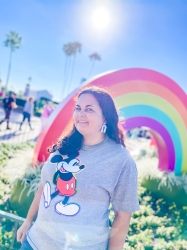 Latest posts by Krystal | Sunny Sweet Days
(see all)