What I Buy at Sam's Club: Sam's Club Shopping List
This is a sponsored post for SheSpeaks/Pantene Platinum at Sam's Club.
I am not a big fan of bulk shopping. I usually think we won't go through enough food to warrant buying in bulk, but there are a few things that we do use often. When I'm eating Whole 30 style, I eat a lot of salad, chicken, and sweet potatoes. Those items are always on Sam's Club grocery list along with Pantene shampoo and conditioner! I recently took a hair care challenge to keep my dyed red hair vibrant, and I'm happy to share my results!

1. Strawberries. I always buy the jumbo pack of strawberries. From smoothies to infused waters, I use strawberries like crazy when they're available. We also go through a lot of apples and oranges too.
2. Bacon. Sometimes there's a "sale" on bacon, and I'll grab what I can! I like turkey bacon and the pre-cooked kind, but it's not really Whole 30 compliant.
3. Eggs. My toddler eats eggs EVERY DAY! It's my favorite breakfast meal so I love to make spinach omelets, cheesy eggs, or even baked egg cups throughout the week.
4. Sweet potatoes. If you are following Whole 30, you know potatoes of all kinds are now allowed! I love red potatoes with rosemary seasoning, but sweet potatoes make tasty oven baked fries!
5. Olive oil. I use olive oil to cook often, but I use it even more to make homemade mayonnaise. It's so much better than store-bought!
6. Milk. With a toddler in the house, it's only normal we go through a lot of milk. I usually grab two gallons here every time we shop.
7. Tomatoes. Probably my favorite "fruit" ever! I could eat tomatoes all day long. I use them in appetizers, homemade salsas, salads, and even just to snack on with olive oil and basil.
8. Chicken breasts. When I'm feeling really productive, I'll make a few gallon freezer bag meals using chicken breasts. Use my free meal plan printables and get a few ideas here.
9. Romaine lettuce. Their jumbo bag goes a long way in my house. I use the giant romaine leaves instead of bread for BLTs and other sandwiches like burgers. I also chop lettuce up for salads for lunch.
10. Bananas. I'll add one to a smoothie or my son eats them for snacks regularly. Bananas are hot ticket items in our house!
11. Frozen broccoli. Their jumbo bag has four smaller steamer bags inside at Sam's Club. It's the easiest side dish ever!
12. Salsa. When I don't make my own, I have salsa on hand for easy snacks.
13. Shredded cheese. While dairy isn't Whole 30 compliant, I do use a bit of cheese here and there. My family goes through a lot of this.
14. Dog food. With two dogs, we can never have enough dog food!
15. Shampoo and conditioner.
After six weeks of continued use, I have to say my red hair is still pretty RED! Here I am last weekend in New York City.
What's on your Sam's Club shopping list?  You might like my Sam's Club Baby Shopping List too!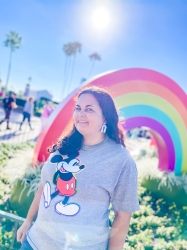 Latest posts by Krystal | Sunny Sweet Days
(see all)