How to Save Money in January
Are you ready to put your money where your MONTH is? Once you welcomed in the new year with Budget-Friendly New Year's Eve Party Tips, get ready to save this year!

It is important to know what items are on sale and in season during the month of January so you can stretch your New Year shopping budget to the max. Look below where we are breaking down everything you need to know about saving money in January, so you can be sure you make your money work hard for you! Ready? Let's get started with these tips on how to save money in January!
How to Save Money in January
Food
Buying in-season produce will always save you cash, so stick to these in-season produce choices: kale, avocado, celery, kiwi, pears, and grapefruit. You can also find deals on carrots, cauliflower, and last but not least chard. These produce items are great for healthy snacking!
Speaking of healthy eating, January is the time where you can find hot deals on healthy living/dieting items such as gym memberships, diet shakes, diet programs and regimens, dieting supplements, scales, exercise equipment and DVDs, yoga mats, vitamins, and weights.
Clearance Christmas Items
Christmas may be over, but retailers will be working hard to move the last of the holiday gift items. Grab these items now for gift giving next year, or even find ways to use these items around the house now. Here are some of the items you can look forward to being on clearance during the month of January: Christmas themed napkins, plates, tableware, candles, décor items, Christmas trees, ornaments, tree skirts, outdoor holiday lighting, Christmas sweaters, Christmas themed toys, holiday linens, Christmas music CD's and DVDs.
Organizational Items
January is all about starting new and getting organized! Now is the time to find hot deals on organizational items and all of the things you need to live a less stressful life. You can find deals on organizational items such as calendars, organizational apps, planners, pens, planner stickers and inserts, plastic totes, hangers, closet dividers, bill holders, desk accessories, file folders, closet organizational systems.
Clothing
Can you believe that retailers are already getting ready to introduce spring clothing lines? In order to do this, they need to get rid of the winter clothing. Retailers will be working hard to liquidate winter clothing and accessories, so stock up now and stay warm for the rest of the winter. Here are some winter clothing items you can look forward to finding on sale: mittens, gloves, scarves, hats, jackets, coats, winter boots, winter socks, ear muffs, snow gear, hand warmers, long underwear, thermal clothing, fleece clothing.
The Big Game Essentials
Super Bowl is coming! During the month of January, you can find all sorts of items perfect for helping you watch the game with family and friends! Some items you can look forward to seeing on sale during the month of January include large and older model televisions, snack foods such as chips, pretzels, dips, veggie trays, fried/baked appetizers. You can also find deals on soda, condiments, beer, and paper products, all perfect for helping you watch the big game!
Bonus Budget Tip
Now that the year is off to a fresh start, why not start tracking your daily spending? A spending journal is an easy way to track what you spend, so you can evaluate at a later time and see where cuts can be made. Creating a spending journal is as easy as grabbing a notebook from the dollar store. Just jot down every penny you spend per day. After a week, evaluate your spending. See where you may have spent money on items you didn't need. Culprits often include dining out, fast food, coffee treats, or convenience items such as a car wash or dry cleaning. Take care to track for 30 full days so next month you can make changes to your spending habits!
Use one of my favorite planners to start tracking your budget!
Are you ready to put your money where you MONTH is? Consider these tips for saving and shopping in January!
How to Save Money This Year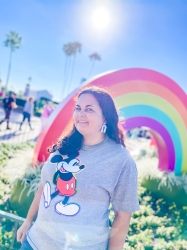 Latest posts by Krystal | Sunny Sweet Days
(see all)