How to Make Healthy Holiday Appetizers For Your Christmas Party
If you need a last minute appetizer for your Christmas party, try one of these healthy holiday snacks. You won't need to worry about dietary concerns since fruits and vegetables can typically be enjoyed by everyone. Grab your favorite appetizer platter, and whip up one of these healthy treats!

Christmas Tree Veggie Platter. This is an easy way to display vegetables for guests to share. Create a festive arrangement on a large cutting board, platter, or another display plate. Create a Christmas tree using broccoli as the base. Use sliced bell peppers to create a star at the top of your "tree," and use other vegetables as "ornaments" for the Christmas tree. Think round tomatoes, carrots, and cucumber slices.
Grinch Fruit Heads. The Grinch is a fun Christmas character that everyone loves, so try making this character using green grapes, strawberries, and bananas. To assemble your "Grinch," start with a green grape for the face. Remove the hull from strawberries to create his Santa hat. A slice of a banana can be the white trim of the hat. Stack them and use a toothpick to hold them together. The top piece is the strawberry, then the banana, then the green grape. Repeat and enjoy!
Make "Candy" Canes. Combine your favorite white and red fruits and vegetables to make a delicious platter to share! White options include bananas and cauliflower. For the red part of your "candy" cane, slice up strawberries, cranberries, raspberries, or red bell peppers. Alternate your fruits and vegetables with a red and white striped pattern on a platter or large plate.
Create Egg Snowmen. Add protein to your party with hard-boiled eggs. Use a whole hard-boiled egg for the body and half of one for the head of your snowman. Use slices of carrots for the nose, and you can make a carrot hat as well! You can use peppercorns or small pieces of black olives for the mouth and eyes of your snowman. Easy and delicious!
What's your favorite healthy holiday snack?
Healthy Holiday Tips
Christmas Decor Guide
Score your free holiday decor guide.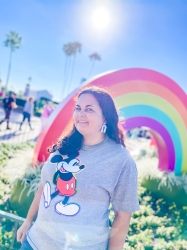 Latest posts by Krystal | Sunny Sweet Days
(see all)