My kitchen may be upgraded with nice counter tops and appliances, but that doesn't mean I take as good care of it as I should. I should enjoy the fact that my home has closets and room for storage, but there is one area that its lacking. I don't have a pantry. It's true! I seem to have nooks and crannies for everything else in my home, but there is no designated space for dry goods and packaged foods. Because of this, we use the largest cabinets in the kitchen to house our essentials. Needless to say, it has gotten messy. Things have been lost in the corners of the shelves, food has gone bad since I can't see it, and I buy duplicates since I didn't know I already had the product. I'm about to show you my shocking BEFORE which is full of half used boxes, expired food that I didn't know existed, and an overall MESS.

But, look! See, I can organize too. In an effort to tame the kitchen mess, I was thrilled to find OXO POP containers. They have flat lids designed for stacking, the square and rectangular shapes make POP containers space efficient. Since I don't have much room to spare, this is definitely important! As you can see in the photos above, my shelves have funky heights and width. A lot of boxes do not fit in those measurements, so these containers seem to be the BEST thing I have found for my "pantry."

POP Containers come in a variety of sizes, and this ten piece POP container set has a good mix. There's a tall and skinny one for pasta, wide containers for cookies and snacks, small containers for things like chocolate chips or nuts. I had no problem filling these up.

The pop-open lids on the containers can be opened with just one hand, and they are easy to clean too.

So, here's how I did this quick overhaul of my pantry space.
I took everything out and wiped down the shelves.
I took anything that was in a bag or a box and checked the expiration date. That made my storage space seem to grow since I was holding onto a lot of products that were no longer good.
I broke down boxes from family favorites like cereal, pasta, and even pancake mix. I filled the POP containers with their contents, and I admired the new view.
I added a few baskets in my pantry as well to hold similar items like bags of popcorn, packaged goods, and loose seasoning packets.
I finished by lunch time. Not bad! The Container Store has everything you need for organizing your pantry and kitchen. POP Containers are available at The Container Store locations nationwide or www.containerstore.com. I've already curated a wish list of my favorite OXO products from The Container Store!
What's your best pantry organizational tip? 
—
Home Organization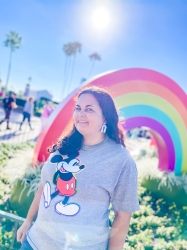 Latest posts by Krystal | Sunny Sweet Days
(see all)