How To Stay Productive While Stuck Inside
Being stuck at home right now may have it's up and down challenges every single day. There are a few ways you can make your day feeling as productive as possible, all while in the comfort of your home.
Of the biggest things you can do is having a routine, specifically when you know your brain is going to be the most active. If you find yourself more awake and ready to get your day started in the morning, begin a morning routine. If it's the opposite learn how to schedule things to keep yourself alert throughout the night.
Setting A Morning Routine: This should start by trying to wake up at the same time Monday through Friday. Let in as much natural light as possible and open windows for air circulation. One of the biggest things is you should be changing out of your bedtime clothes and put on regular clothes. This doesn't mean you need to put on a suit and tie but feel comfortable and your best in the items of clothing you pick out.
Smart Scheduling: If it's possible, keep your workday within normal working hours to allow time for yourself to recharge and rest when needed. Try to block the schedule around your specific productive patterns. This is a great way to show you your own needs and productive pattern day after day. Looking back over the days, weeks and months, you can see the patterns of when you are focused, productive and able to do your best and when you are not. During your schedule, it's important to schedule a break as well. Your breaks can include a change of scenery such as going on a walk and talking to a friend, walking a dog, making a cup of hot cocoa or watching a show for a half-hour. You'll find that having these breaks every half hour, an hour or an hour and a half will leave you much more energized than scrolling on social media for hours at a time.
Tackle That To-Do List: Since we're stuck in our home, now is the time to tackle that endless to-do list. Go through and see what things need to get done now and what you can put off later. I would tackle getting the big projects done first so you can enjoy the small mindless ones at a different time. This could include organizing the linen closet that's been overcluttered with winter items, get rid of old items in your pantry or set up old toys, games or past clothing to donate when we're able to get back into a normal routine.
Find Work From Home Jobs: If you've been laid off of your previous employment, now is the time to look for some great work from home jobs to still help earn an income for your family. There are several that you can apply for that you might not think can help. One of them includes a medical transcriptionist. A company called iMedX that began in 2012, helps integrate medical document management and health information based in the Atlanta, Georgia area. iMedX offers a full suite of high-value cycle management solutions including coding services, education, and training opportunities as well as data analytics. 
Enroll In An Online Course: If you've been stuck at home, you might have had more time than usual to consider your current career path. If you're unhappy in your current place of work or you just fancy making a change and taking the opportunity to upskill, one way you could do this and broaden your horizons while you are spending more time at home is to sign up for an online course. Thanks to the internet and the rise of online learning, gone are the days when you had to attend classes in person and sit in on lectures and seminars at specific times of the day. If you choose to study online, a whole new world of opportunity is opened up to you right from the comfort of your own home because all learning material is available online for you to access at any time that suits you. You can learn from wherever and whenever you have access to the internet, which enables you to study at your own pace and gives you the flexibility to fit your education around your existing work and looking after the kids. When you choose to enroll in an online course, you are certainly not limited by choice. From English to Math or even healthcare, there are thousands of subjects and vocations that you can study from home. Choosing to learn in this way means you can study any course, regardless of where it is based in the world. If you're interested in pursuing a career in healthcare, check out a TWU online nursing program, where you will receive the support you need to become a Family Nurse Practitioner. 
Move Your Body- If you find yourself having a hard time focusing, make sure you move your body around. This can be a few rounds of yoga, jumping jacks, a full-on HITT workout or doing some YouTube videos dances with your kids. If you do become frustrated, experiment with what you need to do go get back to a place of productivity. Do what you can and maybe experiment with new exercises from free videos to work out equipment you can find on Amazon.
I'm sure there are many other ways to help you stay productive while we're all stuck at home during this pandemic. If you are home with kids, a few fun things to help everyone out is trying something. You could work on a puzzle together, a few fun board games or have them help with new chores as they get bigger and older. If your kids love to bake, have them watch a baking show on the TV and then try to make the same recipe together after they've watched it. There are so many great things you can teach them while also keeping them safe, feel secure and teaching them home ec and life lessons. What are some ways you and your loved ones staying productive while social distancing yourself from others?
Bored at home? Try these ideas to stay busy! You might also like these productivity ideas.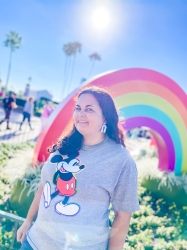 Latest posts by Krystal | Sunny Sweet Days
(see all)