What to Do at Home When You're Bored
The coronavirus has created a lot of panic, fear, and anxiety as well as a huge lifestyle change for everyone around the world. It's not easy being stuck at home unable to go out to enjoy our favorite leisurely activities. Many, if not all, gyms are closed. Churches have closed around the world, offering a virtual church service instead, and all of our favorite hangout spots are now closed or extremely limited to social gatherings under 5 people at a time. So, do you know what to do at home when bored?!
Bored in the House in the House Bored
This can cause a huge problem for many of you who are stuck at home unable to socialize and get outdoors to enjoy your favorite activities. While it may seem impossible to see the light at the end of the tunnel right now, there are many things you can to protect your mental health while you're stuck at home. Today I'm sharing some creative ideas for adults to self-entertain while stuck at home as a means to bring some normalcy into your life during the pandemic shutdown.
What to Do at Home When Bored
Read a Book
Now is the time to start reading books again. You have a lot of free time on your hands, so why not use it wisely by picking up a few good books. Many public libraries are offering audiobooks via the internet, while other bookstores allow you to shop online to place an order for a new book. Reading a book can take you away from the current affairs as you sit down and immerse yourself into your favorite stories.
Learn Something New
You may be stuck at home but that doesn't mean you have to stop learning. Now is an excellent time to learn a new language, how to paint, draw, or do some other activity that you neglected during your busy lifestyle. Many platforms are offering free SEO courses for website owners and copywriters, while other sites are giving the average person free access to learning a new language.
I found a website called Sophia that lets you take college courses for free. From Art History to Project Management, you can take a few and update your resume with new, relevant coursework!
Start a Garden
You can easily start an indoor garden with the best vegetables and herbs to grow indoors. You may be surprised to learn that most salad vegetables are easily grown indoors as well as your favorite kitchen herbs. Consider starting some seedlings by purchasing seeds online or calling your local essential business to see if they have seeds for sale. Most essential businesses will handpick your seeds for pick up orders if you ask.
Start a Craft Project
Now is the time to get into crafts! Whether you have craft supplies at home or not, you can easily purchase most craft supplies online via pick up order or delivery to your home. Some new craft ideas I can think of include latch hook, upcycle crafts, and beaded jewelry. These types of craft projects will keep you busy and self-entertained for hours while you're stuck at home.
Take a Jog or Walk
If you live in an area where jogging or walking around the local nature trails or streets won't put you in direct contact with others, meaning you can still respect social distancing, then why not get outdoors to take a walk. Create a favorite music playlist and get outdoors for a brisk walk to stay busy and active during the coronavirus shutdown.
Start a Blog
I have a TON of research on how to start a new blog. If you love to travel, start a travel blog. Or, you can find other tips on how to become a virtual assistant or perhaps join a blogger community to learn more.
Schedule Virtual "Nights Out"
Surely you can find a creative way to get together with your favorite friends while practicing social distancing. We live in a digital age where technology is at our fingertips. Schedule a virtual night out with your friends via Zoom or other video conferencing software. This is an excellent way to stay entertained while practicing social distancing.
These are just some of my creative ideas for adults to self-entertain while stuck at home. The options are endless when you start thinking creatively and using your resources to keep your mind busy. The key to surviving these stay at home orders is to find ways to keep your mental health stable, such as using this list of creative ideas to self-entertain. So, do you have an idea for what to do at home when bored? What is your favorite thing to do?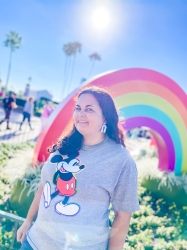 Latest posts by Krystal | Sunny Sweet Days
(see all)