The Best Organizational Books For Your Home
Time to get organized! Use this list as a quick guide for finding organizational books to help you declutter, clean, and find simplicity in your home.

Organization Hacks by Carrie Higgins
Fix your cluttered cabinets, overflowing drawers, and messy living areas with these tips, tricks, and project ideas from Carrie Higgins, the organization expert of the Making Lemonade blog. Carrie Higgins has made it her mission to share fresh ideas for the home on her blog Making Lemonade. In this guide, she has collected her best quick fixes, innovative hacks, and DIY solutions to keep your home looking beautiful.
The Life-Changing Magic of Tidying Up: The Japanese Art of Decluttering and Organizing by Marie Kondō:.
The Life-Changing Magic of Tidying Up: The Japanese Art of Decluttering and Organizing Japanese organizational consultant Marie Kondo takes tidying to a whole new level, promising that if you properly declutter your home once, you'll never have to do it again. Whereas most methods advocate a room-by-room or little-by-little approach, the KonMari Method's category-by-category, all-at-once prescription leads to lasting results. In fact, none of Kondo's clients have been repeating customers (and she still has a three-month waiting list of new customers!). With detailed guidance for every type of item in the household, this quirky little manual from Japan's newest lifestyle phenomenon will help readers clear their clutter and enjoy the unique magic of a tidy home–and the calm, motivated mindset it can inspire.
The Complete Book of Home Organization by Toni Hammersley
Have you ever wished you had the time and tools to organize your house in a clutter-free, design-conscious, Pinterest-worthy way? From storage solutions and cleaning tips to secret space-saving methods and expert strategies, The Complete Book of Home Organization is packed with the tips and shortcuts you need to effectively organize your home. From small spaces and apartment solutions to how to tackle a big, messy home with a 15-week total home organization challenge, this book covers it all. The Complete Book of Home Organization spells out everything you need to de-clutter your house, store your belongings, and keep your home—and life—in tip-top shape. With high-quality design, intricate detail, and a durable flexicover—this manual is the perfect gift!
Remodelista: The Organized Home by Julie Carlson
Whether you're a minimalist or someone who takes pleasure in her collections, we all yearn for an unencumbered life in a home that makes us happy. This compact tome shows us how, with more than 100 simple and stylish tips, each clearly presented and accompanied by full-color photographs that are sure to inspire. Readers will learn strategies for conquering their homes' problem zones (from the medicine cabinet to the bedroom closet) and organizing tricks and tools that can be deployed in every room (embrace trays; hunt for unused spaces overhead; decant everything). Interviews with experts, ranging from kindergarten teachers to hoteliers, offer even more ingenious ideas to steal. It all adds up to the ultimate home organizing manual.
Real Life Organizing: Clean and Clutter-Free in 15 Minutes a Day by Cassandra Aarssen
Real Life Organizing offers clutter free storage solutions and advice that can help you create a Pinterest worthy home on a small budget: Learn how to organize your home, simplify life and have more time for the things you love. Organizational expert Cassandra 'Cas' Aarssen, the guru from YouTube's ClutterBug channel, reveals her tips, tricks and secrets to a clean and clutter free home in just 15 minutes a day. Aarssen, spends her time organizing other people's homes, teaching college workshops on organization, and creating weekly videos and blog posts. Cas offers diy Pinterest type tips to people like you who are interested in how to get rid of clutter and how to organize your home.
Organized Simplicity: Declutter Your Home By Tsh Oxenreider
Organized Simplicity's aim is to convince its readers that simple living is the absolute best way to live.  Be it with house cleaning, family schedule management, personal finances, and managing the "stuff" you allow within your four walls, the only way to live well is to do so intentionally and simply.  The first half of the book delves into the "why" behind realistic simple living, giving the reader a nail to then hang the how of living simply discussed in the second half.  And by redefining the too often-used phrase "simple living," a busy home manager living in the real world can then make practical changes that work for the whole family.  There are chapters for cleaning and organizing the home room-by-room, and future project ideas will inspire readers to turn their house in a haven they love.
Cluttered Mess to Organized Success by Cassandra Aarssen
Organize your life: Do you dream of getting organized, but have no idea where to start? Cluttered Mess to Organized Success: Declutter and Organize your Home and Life with over 100 Checklists and Worksheets offers you everything you need to organize your home, family and your time. This book not only provides helpful tips and advice, but it is jam packed with over 100 worksheets, forms, labels, schedules and everything else you need to organize your life.
365 Daily Do Its by Christina Scalise
Daily Do Its are daily organizing tips and challenges that help you get organized throughout the year in a way that will ALSO help you maintain organization for years to come. Some are quick and easy; and some are more challenging than others.
Outer Order, Inner Calm: Declutter and Organize to Make More Room for Happiness by Gretchen Rubin
Gretchen Rubin has found that getting control of our stuff makes us feel more in control of our lives. By getting rid of things we don't use, don't need, or don't love, we free our minds (and our shelves) for what we truly value. With a sense of fun, and a clear idea of what's realistic for most people, Gretchen Rubin suggests dozens of manageable steps for creating a more serene, orderly environment—one that helps us to create the lives we want.
Simply Clean: The Proven Method for Keeping Your Home Organized, Clean, and Beautiful in Just 10 Minutes a Day by Becky Rapinchuk
Becky Rapinchuk, the "Clean Mama," understands that many people don't have the time, organizational skills, or homemaking habits to maintain a constantly clean and decluttered living space. No matter how big your home or busy your schedule, the Simply Clean method can be customized to fit your life. It really is possible—in just ten minutes a day, you can create a cleaner, happier home.
The Home Edit: A Guide to Organizing and Realizing Your House Goals by Clea Shearer and Joanna Teplin 
From the home organizers who made their orderly eye candy the method that everyone swears by comes Joanna and Clea's signature approach to decluttering. The Home Edit walks you through paring down your belongings in every room, arranging them in a stunning and easy-to-find way (hello, labels!), and maintaining the system so you don't need another do-over in six months. When you're done, you'll not only know exactly where to find things, but you'll also love the way it looks.

A masterclass and look book in one, The Home Edit is filled with bright photographs and detailed tips, from placing plastic dishware in a drawer where little hands can reach to categorizing pantry items by color (there's nothing like a little ROYGBIV to soothe the soul). Above all, it's like having your best friends at your side to help you turn the chaos into calm.
Cozy Minimalist Home: More Style, Less Stuff by Myquillyn Smith 
Cozy Minimalism isn't about going without or achieving a particular new, modern style. Nope. It's simply a mindset that helps you get whatever style YOU LOVE with the fewest possible items. You want a warm, cozy, inviting home, without using more resources, money, and stuff than needed. Why use more if you don't have to?
What is your best organizational tip for your home?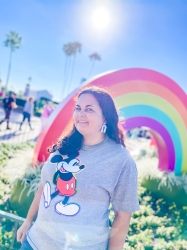 Latest posts by Krystal | Sunny Sweet Days
(see all)