7 Ways to Stay Organized: Day Designer Target
Everything you need to know about Day Designer Target!
This is the time of year when we lose focus (if we haven't already!). The kids are out of school, the weather is warm and sunny, and we are shuttling between family vacations and summer camps. Whether you are at home or on the job, there are a few ways that you can stay clutter-free and focused. Some of my favorite planner designers release highly coveted academic planners this time of year, and it's almost as if we get a clean slate. I LOVE switching into a fresh planner over the summer months, and I anxiously count down the days until some of my favorites are released. This year Whitney English took her Day Designer back to Blue Sky Planners at Target, and I have a peek at what's inside!
Whitney English Day Designer
What are your "big 3" tasks? You've heard this before. Write down your top three BIG tasks for the day. DO THESE FIRST. If you haven't read "Eat That Frog," you need it on your list. You will find that your productivity soars when you do your big tasks first, and your can stay organized throughout the day! Inside the pages of these Day Designers, you can find a place for your top three tasks. It's right at the top so you can't miss it!

2. Do one thing at a time. Another cliched productivity tip, but for good reason. It's really easy to get distracted over the summer, and it's even harder to get anything done. I can only take on one big personal project at a time or else I won't be able to finish anything. I use the monthly calendar views inside these planners to write down my BIG goals! I use the daily pages for accountability and to track what I'm doing to hit my milestones.

3. Take care of it now. If you receive an email that requires a response that is short or you just checked the mail, handle it now! Don't take your mail inside, lay it down on your kitchen counter, and deal with it later. It will pile up, and you will probably forget about it. Everything that is both physical or virtual that requires your attention quickly should just be dealt with. Otherwise, you will have a packed inbox and mail that you never took the time to read.
4. Simplify your possessions and processes. Anytime that you bring something new to your home, take something OUT. Whether it's to donate it, recycle it, or trash it, make sure that you aren't just filling your closets with too many towels or other things.
This theory also works with your blog, your virtual life, or your hobbies. I try to just use one social media platform for staying in touch with friends, and I work on putting my best content here on my website. I try to not spread myself too thin by appearing on every social media outlet for bloggers.

5. Find a planner that works for you. I have gone through a lot of planners, and some are perfect for blogging while others are more appropriate for at-home tasks. I switch between planners throughout the year as I juggle school events, work meetings, and notes. I find that a daily planner can be almost wasteful since I don't plan every day, but a weekly planner doesn't seem to have enough space!
The Whitney English Day Designer For Blue Sky Planners makes it easy for me to switch between planners since the price point is so low! The quality is still on par with other Target planners, and the colorful details and accessories make it a welcome addition to my workspace.

I go over each planner inside this video in more detail with lots of up close views of the daily planning pages. There are undated options along with various sizes and cover choices.
6. Keep a clean desk. I read something recently that said if you're surrounded by clutter that your brain is on overload trying to process everything! Ensure that your workspace has enough room for your important items like your laptop, but keep the clutter to a minimum.
7. Use technology to HELP you and not add more distractions to your everyday life. I basically turn "off" Facebook, and I only use it for business purposes. I keep in touch with friends either via texting or through another app. I also set aside specific time for Instagram, and I have seriously stopped mindlessly scrolling. It doesn't help me get anything done, and it adds disorganization to my life!

If you want to try some new apps to help you simplify, here are a few favorites:
Dropbox
IFTTT
Voxer (an app to send voice messages to friends)
Buffer
Audible (listen to books on the go!)
Copromote
Planoly (Instagram scheduler)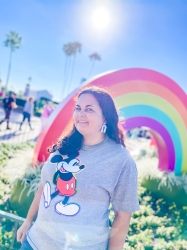 Latest posts by Krystal | Sunny Sweet Days
(see all)